US President George W. Bush arrived in Brazil Thursday at the start of a Latin America tour to promote democracy and free trade, amid protests in the region and a rival trip by his archfoe Hugo Chavez of Venezuela.
Hours before the US president landed in Sao Paulo, some 200 members of a far-leftist group hurled rocks at the US consulate in Brazil's financial capital, while thousands of marchers marking International Women's Day chanted anti-Bush slogans.
Protest organizers said 30,000 demonstrators, which officials estimated to be 10,000, clashed with police, injuring 16 and leaving six others injured.
A dancer, who painted "Bush - Out" on her belly and circles on her bare breasts, was whisked away from the Hilton Hotel minutes before Bush arrived.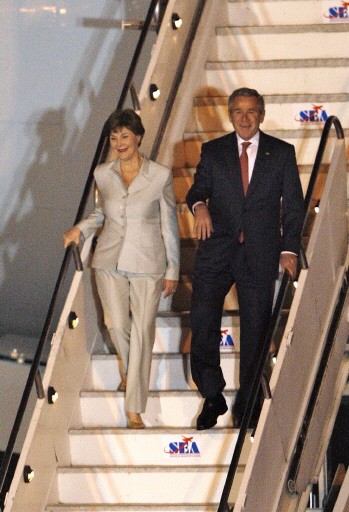 US President George W. Bush at Guarulhos International Airport in Sao Paulo, Brazil.
Bush, who has been accused by critics of neglecting Latin America, pledged this week to back social justice and prosperity in the region and unveiled new aid schemes for education, housing and health.
But he faces a region that has recently elected or re-elected leftists who oppose his views, including in Bolivia, Ecuador, Nicaragua and Venezuela, where Chavez has called Bush everything from a "tyrant" to the "devil."
Chavez, the closest ally of Cuba's communist leader Fidel Castro, arrived in Argentina late Thursday for a two-day trip that will also take him to Bolivia. Although the firebrand Venezuelan has said the timing was a coincidence, he will take part in an anti-Bush protest in Buenos Aires.
When Bush visits Uruguay on Friday, Chavez will headline an "anti-imperialist rally" in a 40,000-seat Buenos Aires football stadium.
Anti-Bush demonstrations already took place in Colombia on Wednesday, and were planned for Uruguay.
Bush and his policies, particularly the Iraq war and the fight against drug trafficking, are widely unpopular in Latin America. Last week, at a summit of the Rio Group of 19 countries in the region, presidents signed a statement backing "multilateralism," alluding to Bush's decision to invade Iraq.
In Brazil, trade unionists and leftist movements, including the Workers Party (PT) of President Luiz Inacio Lula da Silva, planned more protests during Bush's stay.
The White House downplayed the protests.
"The president enjoys traveling to thriving democracies where freedom of speech and expression is the law of the land," said Gordon Johndroe, a White House spokesman.
"He brings a positive agenda that will demonstrate the benefits of democracy in such areas as economy, health, education, housing for Brazilians as well as all the citizens of the hemisphere," Johndroe said.
In Bogota, police stepped up security, saying rebels of the leftist Revolutionary Armed Forces of Colombia (FARC) were planning "acts of terrorism" during the US president's six-hour visit on Sunday.
In addition to Brazil, Uruguay and Colombia, Bush will visit Guatemala and Mexico during his trip, which ends on Wednesday.
The White House dismissed suggestions Bush's trip was an anti-Chavez tour, but Bush has insisted "the United States brings a message of open markets and open government to the region."
In Sao Paulo, he was scheduled to meet Lula on Friday to discuss trade and a partnership on the production and use of ethanol, an alternative fuel. The two countries are the world's biggest ethanol producers.
Washington would like to cut US dependence on the Middle East and other foreign suppliers of oil and natural gas, especially during the US "war on terror."
For Brazil, the leading exporter of sugarcane-based fuel, the aim is to create a "global ethanol market," said Foreign Minister Celso Amorim.
Lula said on Thursday the talks would also address ways to relaunch the Doha round of the World Trade Organization (WTO) talks that ground to a halt in July.
He said that immediately after the talks he would phone German Chancellor Angela Merkel, whose country holds the rotating European Union presidency.
"I believe we are at a stage of political decision," Lula said, expressing hope that "within the next three or four days we will finally be able to announce that the poorest countries will have an opportunity to develop."
The European Union and the United States have been unable to agree on cuts in agricultural subsidies and tariffs, while rich and poor countries are at loggerheads over trade in industrial goods and services.
Brazil, the economic powerhouse of South America, and India head the Group of 20 developing nations (G20.)