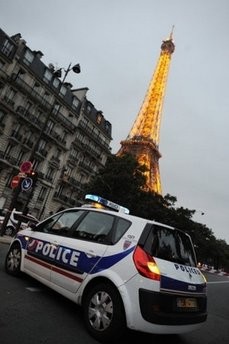 A police car is parked in front of the Eiffel Tower after its evacuation following a bomb alert September 28 in Paris. AFP
LONDON (AFP) – Western intelligence agencies have uncovered an Al-Qaeda plot to launch Mumbai-style terrorist attacks in Britain, France and Germany, reports said Wednesday.
Militants based in Pakistan were planning simultaneous strikes in London and major cities in France and Germany, Britain's Sky News television reported, citing intelligence sources.
It was "one of the most serious Al-Qaeda attack plans in recent years" and was inspired by the terror group's fugitive leadership in Pakistan's tribal areas, said the BBC.
The United States was also a possible target and President Barack Obama had been briefed about the threat, said ABC News in the US citing American officials.
Planning for the attacks was advanced but they were not imminent and recent drone strikes in Pakistan had killed several leaders of the plot and severely disrupted it, said Sky.
Well-armed, commando-style teams of jihadists planned to seize Western hostages and murder them, in a manner similar to the siege of two Indian hotels in Mumbai in 2008, according to the BBC.
In the Mumbai attacks, 10 gunmen went on a three-day rampage, killing 166 people and injuring more than 300.
In Britain on Wednesday, the national threat level remained at "severe" -- where it has been since January -- which means a terrorist attack is thought highly likely.
France has been on a heightened state of alert amid warnings of an imminent terrorist attack but an official said late Tuesday these warnings were not linked to the reported Al-Qaeda plans.
The plot targeting Europe was uncovered after intelligence-sharing between London, France, Germany and the US, and their cooperation had led to the attack plans being disrupted, said Sky.
A number of the plot leaders were killed in drone attacks which were increased in recent weeks to target them, said the broadcaster.
The Wall Street Journal reported Tuesday that the CIA had stepped up its drone attacks in Pakistan's tribal areas as part of efforts to prevent the mass attacks on European cities.
Pakistani security officials have reported around 20 drone strikes in the country's tribal belt along the Afghan border this month.
The latest on Tuesday killed Al-Qaeda's operational chief for Afghanistan and Pakistan in Pakistan's tribal areas, according to security officials in the country.
The source of the threat information was a suspected German terrorist captured on his way to Europe and now being held in Afghanistan, said ABC, citing intelligence and security officials in the US and Europe.
The report of the foiled plot came after the Eiffel Tower in Paris was evacuated Tuesday following the second hoax bomb threat at the landmark in a month and amid official warnings in France of an imminent terrorist attack.
However, a French intelligence source, speaking on condition of anonymity, told AFP he was "not at all in the know" about the reported plot.
A French government source, with links to the intelligence service, said recent warnings of an attack in France were not linked to Wednesday's reports of planned attacks on European cities.
Britain's Home Office and the Metropolitan Police had no comment on the reports.
Reports of the plot came after US Homeland Security Secretary Janet Napolitano said last week "increased activity" by terror groups signalled a heightened threat against Western countries, including European states.
"We are all seeing increased activity by a more diverse set of groups and a more diverse set of threats," she told a US Senate hearing asked about warnings in Europe of a growing terror threat.