France sought US and international help to locate seven hostages kidnapped in Niger as Al-Qaeda linked militants claimed the abductions and warned Paris against military strikes.
The Al-Qaeda in the Islamic Maghreb late Tuesday claimed last week's abduction of five French citizens and two Africans as French military planes scoured the west African desert to locate the hostages.
"In announcing our claim for this operation, we inform the French government that the mujahedeen will later transmit their legitimate demands," AQIM spokesman Salah Abi Mohammed said in an audio tape played by Al-Jazeera late Tuesday.
"We also warn (the French government) against any sort of stupidity," he added, in reference to a possible military operation.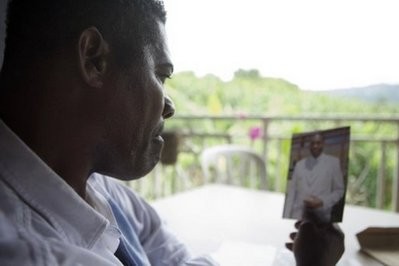 Alex Dole, the father of one of the French hostages captured in Niger, looks at a picture of his son
French
Foreign
Minister
Bernard
Kouchner
said he was "not really surprised that Al-Qaeda is behind this kidnapping.
"Now that this is a certainty, we will continue -- the French, our allies, the countries of the Sahel and Europe I hope ...to put all the means at our disposal for their liberation," he said, speaking on the fringes of a UN summit in New York.
Two US officials told AFP that France has asked Washington for military help to track down the captives.
The officials, who spoke on condition of anonymity, declined to offer any details about the US military's support for French forces, but analysts said the assistance could include imagery from spy satellites or unmanned aircraft.
A US counter-terrorism official said the group's North African branch was "a dangerous terrorist node that's capable of carrying out a range of vicious attacks against innocents."
"Their intentions shouldn't be underestimated, and that's why it's important to thwart their plans and activities," he said.
The AQIM statement said Algerian Abdelhamid Abou Zeid had led the kidnap operation.
"Following the promise of our emir, Abou Moussab (Algerian Abdelmalek Droukdel), a group of heroic mujahedeen last Wednesday, under the command of Sheikh Abou Zeid, succeeded in penetrating the French mining site at Arlit in Niger," Mohammed said.
The site was one of the "world's main sources of uranium and France has for decades constantly plundered this strategic resource," he added.
"Despite strict military measures and numerous security barriers, the lions of Islam succeeded in evading all surveillance and kidnapped five French nuclear experts working for the Areva company," he said.
AQIM has made increasing threats against France and its citizens since a deadly Sahara raid in a bid to rescue French hostage Michel Germaneau.
Seven AQIM members were killed in the failed Mauritanian-French raid in Mali on July 22 and the group said it executed the 78-year-old two days later in revenge for the deaths of its members.
With specialised military troops in place in Niamey, France's Defence Minister Herve Morin said Tuesday every effort was being made to track down the hostages who have been moved by their kidnappers to the northern Mali desert.
From the Niger capital, some 80 French soldiers took turns to lead flights with a long-range reconnaissance plane and a specially modified Mirage jet with detection equipment.
French Interior Minister Brice Hortefeux on Tuesday fended off a question about French military intervention, telling reporters in the Malian capital Bamako: "At this stage no," but adding: "And if there is a plan I'm not going to tell you."
The seven were kidnapped on Thursday from their homes in Arlit in northern Niger.
The small AQIM army was born out of a radical Algerian group who wanted the Algerian government to be replaced with Islamic rule, and aligned itself with Osama Bin Laden's terror network in 2006.
Since then it has spun a tight network across the Sahel, raking in millions from kidnappings and drug trafficking, killing several hostages and carrying out attacks across the six countries it spans.