All eyes are on President Nicolas Sarkozy Thursday as Europe kicks off an explosive summit overshadowed by a slanging match over France's expulsion of Roma Gypsies.
While leaders are also wrestling with troublesome cross-border sanctions for budget bingers, favours for flood-devastated Pakistan and a sickly-sweet trade deal with South Korea, Sarkozy's first utterance is the one they are all waiting for.
The row turned personal on Wednesday after a top European Union official compared France's hard line on travellers to the tactics of its World War II pro-Nazi regime.
"A cash handout, a plane ticket to the EU country of origin are not the same as the death camps, the gas chambers," France's European Affairs Minister Pierre Lellouche snapped back.
"As he will explain tomorrow, it's scandalous," Senator Bruno Sido added after lunching with Sarkozy, the son of a Hungarian immigrant.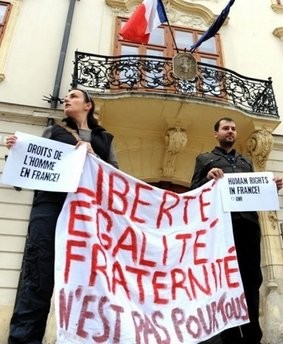 Human rights activists from take part in a demonstration in front of the French embassy in Bratislava to protest France's deportation of Roma.
France is "irreproachable," Sarkozy was quoted as telling party allies, adding that "if the Luxembourgers wanted to take them, he had no problem."
Paris faces legal action over its controversial drive to deport ethnic Roma living in travelling communities in France back to Romania and Bulgaria.
But a diplomat who knows the score warned that the European Commission, whose justice supremo Viviane Reding unleashed the storm, "doesn't always win at the European Court of Justice."
He maintained: "Our argument is sound."
Luxembourg Foreign Minister Jean Asselborn attacked the reported Sarkozy jibe as "malicious."
Finally, compatriot Reding, in a bid to smooth out tensions, contacted AFP to express "regret."
She insisted: "I in no way wanted to draw a parallel between World War II and the actions of the French government today."
An EU founder member, France is fiercely proud of its historic legacy as the home of human rights.
Italian Prime Minister Silvio Berlusconi, for his part, was happy to argue that "the problem of the Roma concerns every country in Europe."
Italy had its own brush with the commission in 2008 when it started to register Roma living in camps, taking fingerprints and documenting their ethnicity and religion.
Previously viewed as "underwhelming," the heightened atmosphere could easily infect existing divisions on other fronts too.
EU chief Herman Van Rompuy stands charged by Berlin with producing only "nebulous" ideas for clipping countries whose spending blitzes threaten a shared euro economy.
"Germany backs severe sanctions," Chancellor Angela Merkel underlined at tactical talks with centre-right allies in Brussels.
As seen by Slovakia wriggling out of a commitment to loan Greece money -- an uncomfortable truth euro chiefs prefer to ignore -- momentum has faded since the balmy night in May when EU bosses trumpeted a 'trillion-dollar' euro rescue war-chest.
"Intensive work" is required if decisions slated for October are to live up to Van Rompuy's launch fanfare, one diplomat told AFP.
International Monetary Fund chief Dominique Strauss-Kahn, who must throw in one euro for every two the EU chucks at its basket-case economies, also wants "courageous measures."
Otherwise, Europe will "no longer be able to compete with the world's most dynamic countries."
Summit strategists ought to secure a call for Israel to extend a freeze on settlement activity in East Jerusalem, as added to draft conclusions on Wednesday night.
But EU capitals are hesitating to endorse British Prime Minister David Cameron's bid to aid Pakistan, despite supportive rhetoric about rising Islamist extremism.
Fearing challenges at the World Trade Organization, Cameron's attempt to nail down a "concrete political commitment" to open the world's biggest border-free market to Islamabad may result in no more than a fudged agreement "in principle" to cut duties on key imports.