Algeria on Saturday formally denied that a convoy of armoured cars that could be carrying top Libyan regime officials had crossed its borders.
"This information is baseless and we deny it categorically," the foreign ministry said following a report by Egypt's official news agency.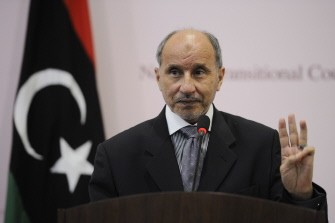 Libyan rebel leader Mustafa Abdel Jalil holds a press conference on August 27, 2011 in Benghazi during which he promised that Moamer Kadhafi and officials of his regime would be given a fair trial.
Libya
n rebel leader Mustafa Ahmed Jalil promised Saturday that Moamer Kadhafi and officials of his regime would be given a fair trial.
"We call on Moamer Kadhafi and his associates to surrender so we can protect them and spare them illegal execution," the head of the National Transitional Council told a news conference in Benghazi.
"We guarantee them a fair trial, whatever their position," he said.
Asked about the International Criminal Court, which has issued indictments against Kadhafi, his son Seif al-Islam and his intelligence chief, Jalil said the ICC was complementary to Libyan justice.
The ICC handles serious cases where the courts of the defendant's own country cannot or will not act.
"We have issued appeal after appeal for them to appear, that we will protect them and that they will be tried," Jalil said. "Those who are afraid and do not respond will be alone responsible for their security."
The rebels have offered a $1.7 million dollar reward for Kadhafi's capture, dead or alive.
Jalil added that officials of Kadhafi's regime who do not voice their support for the rebellion will not risk their lives or citizenship, but they will have no political role to play in the new Libya.