Algeria, which has taken in some of Moamer Kadhafi's family, has given them "a pass" to enter a third country, the Libyan rebel leadership said Monday.
"Algeria said they gave a pass to go to a third country. We cannot confirm that but they said they welcome them (to Algeria) for humanitarian reasons," rebel spokesman Mahmud Shammam said.
Shammam said the rebel leadership did not understand how anyone could "save Kadhafi's family" and wanted them back in Libya.
"Saving Kadhafi's family is not an act we welcome and understand," he told a press conference. "We'd like those persons to come back."
"We can assure our neighbours that we want better relations with them ... but we are determined to arrest and try the Kadhafi family and Kadhafi himself," Shammam went on, saying the rebels guaranteed a "fair trial".
The Algerian foreign ministry earlier announced Kadhafi's wife, two sons and a daughter entered Algeria on Monday.
"The wife of Moamer Kadhafi, Safiya, his daughter Aisha, and sons Hannibal and Mohammed, accompanied by their children, entered Algeria at 08:45 am (0745 GMT) through the Algeria-Libyan border," the ministry said, quoted by the APS news agency.
"This information has been brought to the attention of the United Nations Secretary General, the security council president and Mahmud Jibril, president of the executive council of the National Transitional Council (NTC)," the interim administrative body set up by the rebels fighting Kadhafi for power in Libya, the ministry statement said.
The ministry said nothing on the whereabouts of his other children, including Seif al-Islam, his most prominent son, whom the rebels claimed to have captured, together with Mohammed, earlier this month.
Seif al-Islam mysteriously resurfaced, free, days later.
But Italian news agency ANSA said Kadhafi's youngest son, Khamis, had "almost certainly" been killed on the way from Tripoli southwards to Bani Walid.
Moamer Kadhafi's son Khamis, whose death has been prematurely announced several times during the Libyan conflict, was killed south of Tripoli and buried on Monday, a rebel spokesman said.
"One of the rebel leaders confirmed to me that Khamis was killed somewhere near Tarhuna, about 80 kilometres (50 miles) south of Tripoli," the opposition justice and human rights minister Mohammed al-Allagy told AFP.
"He may have been killed in battle. The rebel leader said he had been buried," Allagy added.
Rebel government spokesman Mahmud Shammam backed the report, telling a press conference that Khamis had been killed between Tarhuna and Zliten.
"Khamis was killed, a leader of the revolution in that region told me so. (...) I haven't seen the photos of the body but that leader told me and I believe him," Shammam said.
The rebels said on Sunday that Khamis may have been killed the day before in a clash between their fighters and pro-Kadhafi forces.
Rebel military spokesman Ahmed Omar Bani said Saturday that Khamis could have been one of several people killed when rebel fighters in Tarhuna intercepted a military convoy with several "brand new Mercedes vehicles".
"As our fighters were trying to block the passing of the convoy, they were violently attacked and shot at," said Bani.
"The brigade in Tarhuna responded and hit two vehicles in the convoy, killing their occupants.
"We faced strong resistance (from the pro-Kadhafi convoy) to protect these two cars which is why they were totally destroyed and burned with their occupants caught in the crossfire," he told reporters in Benghazi.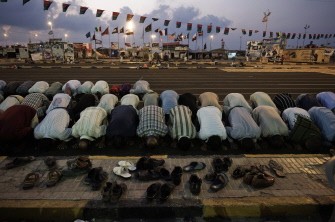 Dozens of Libyans perform the last late afternoon prayer of the Muslim holy month of Ramadan at Freedom Square in the eastern Libyan port city of Benghazi on August 29, 2011.
Bani said "it is very difficult to identify the charred bodies, but the soldiers captured on the spot told us that they were bodyguards of Khamis Kadhafi."
Khamis, 28, the youngest son of Kadhafi, commanded a brigade seen as the most effective and loyal force of the Libyan leader. Rebel fighters captured its base south of Tripoli in fierce fighting on Saturday.
Early this month the rebels had announced his death is a NATO raid on Zliten, 150 kilometres (95 miles) east of Tripoli. The report was immediately denied by the regime, which later showed on state television images of Khamis visiting wounded in a hospital.
The same source said Moamer Kadhafi himself and two of his other sons -- Seif al-Islam and former footballer Saadi -- were hiding south of Tripoli in the town of Bani Walid.
Libya's rebel leadership on Sunday said that Khamis, whose death has been announced several times since the conflict erupted, may have been killed in a clash with rebel fighters in the city of Tarhuna southeast of Tripoli.