PARIS, July 13, 2011 (AFP) - People who take daily AIDS drugs reduce the risk of being infected by the human immunodeficiency virus (HIV) by nearly two-thirds, two new studies showed on Tuesday.
AIDS campaigners voiced delight.
"This is a major scientific breakthrough which reconfirms the essential role that antiretroviral medicine has to play in the AIDS response," Michel Sidibe, executive director of the UN agency UNAIDS said in a press release from Geneva.
"These studies could help us to reach the tipping point in the HIV epidemic."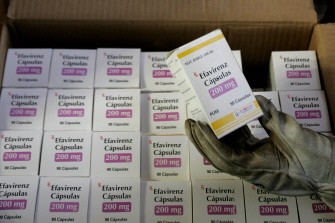 AFP file - In this photograph taken on July 2, 2007, the first batch of AIDS drug Efavirenz produced in India, is unpacked after its arrival in Brasilia, Brazil.
A trial called Partners PrEP, conducted by the University of Washington, followed 4,758 "sero-discordant" heterosexual couples -- in which one person had HIV and the other was uninfected -- in Kenya and Uganda.
The uninfected partner received either a dummy pill or a tablet containing either the HIV drug tenofovir or a combination of tenofovir and emtricitabine.
In the group receiving tenofovir, there were 62 percent fewer infections compared with the placebo group.
In the tenofovir/emtricitabine group, there were 73 percent fewer infections over counterparts taking the placebo.
The second trial, conducted by the US Centers for Disease Control and Prevention (CDC), followed 1,219 uninfected men and women in Botswana who received either placebo or the tenofovir/emtricitabine combination.
Those who received the antiretroviral pill reduced the risk of HIV infection by 63 percent compared with the placebo group.
The studies were released in the runup to a four-day international conference on AIDS, opening in Rome on Sunday.
They add to a previous study, conducted among homosexual men, about the preventive effect -- a reduction of 44 percent in risk -- among uninfected partners who took HIV drugs.
In May, a big study conducted among sero-discordant couples in Africa showed early use of drugs by the infected partner slashed the risk of transmitting HIV to the other partner by 96 percent.
Experts have been clamouring for new tools to fight the global HIV/AIDS pandemic, which has claimed around 30 million lives over the past three decades.
More than 33 million people are living with the AIDS virus, according to estimates for 2009 released last year by UNAIDS.