MULTAN, Pakistan (AFP) – Foreign aid has begun flowing to the 20 million victims of floods in Pakistan, but thousands remain without food or shelter as weather forecasts signalled there may be some let-up.
Monsoon systems were weakening after three weeks of torrential rains brought devastating floods that have left at least 1,400 people dead in the country's worst natural disaster, with survivors hitting out at the government's slow response.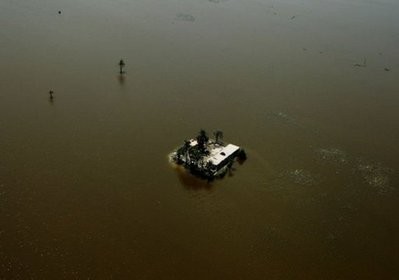 (AFP) An aerial view shows water covering huge areas in the southern Punjab province.
The floods wiped out villages, farmland and infrastructure, and OCHA, the United Nations' aid coordination body, said that more than 650,000 homeless families were still without basic shelter.
At a camp for 3,000 displaced people in the south of Punjab province, most sat in crippling heat, batting away mosquitoes. Concerns were growing about cholera and typhoid, while many were suffering from stomach problems.
Half were children, an army official told AFP, with a few crammed into tents furnished with straw cots, while others were held back by soldiers as they attempted to reach medical and food supplies arriving by helicopter.
The UN last week launched an immediate appeal for 460 million dollars, and said Wednesday that funding had reached 54.5 percent of this target, though that included pledges that were yet to turn into cash.
The nuclear-armed country is on the frontline of the US-led fight against Al-Qaeda and the Pakistani military is locked in battle with Taliban in the northwest, on the border with Afghanistan.
Pakistan Foreign Minister Shah Mehmood Qureshi has warned that the disaster could play into the hands of insurgents.
US ambassador to Islamabad, Anne Patterson, said: "We don't know what impact it's having on the insurgents... the idea that this flood would essentially come on top of a very corrosive insurgency is extremely worrisome."
Zamir Akram, Pakistan's ambassador to the UN in Geneva, said the country had received more immediate relief aid through the UN and direct bilateral aid totalling about 301 million dollars (235 million euros).
The World Bank has also agreed to lend Islamabad 900 million dollars, warning that the disaster's impact on the economy was expected to be "huge" and would take years to put right.
The European Union announced that it would provide an additional 30 million euros (39 million dollars) in emergency relief assistance, bringing its total aid to 70 million euros.
In Washington, the State Department said US aid to Pakistan had reached around 90 million dollars, adding: "America's response to this tragic flood has been consistent with our humanitarian values and our deep commitment to Pakistan".
Islamabad has confirmed 1,475 deaths, but WHO representative Guido Sabatinelli told AFP he suspected the toll was much higher.
"We're talking about 20 million people affected today and there is no infrastructure and no health centres that can register the deaths," he said.
About six million people are deemed to be at risk of deadly water-borne diseases, with typhoid, hepatitis and cholera major concerns.
"Two million dollars are needed every day to provide water, this is not sustainable. We don't have two million dollars a day," said Daniel Toole, the regional director for the UN Children's Fund (UNICEF).
Ambassador Akram said reconstruction in northern areas alone could cost 2.5 billion dollars and said the floods had ravaged an area the size of England.
In Islamabad Information Minister Qamar Zaman Kaira said the government was worried about some half million expectant mothers among the flood victims, and was making plans for those who would give birth soon.
"Among 14 million affected people there are about 500,000 pregnant mothers and we plan to move to or near hospitals those who are expected to deliver within two weeks," Kaira said.
Kaira said the official toll of dead and injured, as well as the number of damaged houses, could rise once the floods began to recede.
"Total confirmed death toll is 1,475 and 2,052 people were wounded, and 970,520 houses were damaged. These numbers may change on the higher side as the flood water recedes and damage assessment begins."
Former Pakistani cricket hero and politician Imran Khan Wednesday, along with a leading newspaper group, launched a fund-raising campaign to aid the flood victims.
"People do not trust government, so we have come forward and every rupee donated for flood-hit people will be accounted for," Khan told a news conference in Islamabad.