ABIDJAN, Jan 4, 2011 (AFP) - African mediators left Ivory Coast without a breakthrough in the west African nation's presidential vote crisis after the man the world says won, Alassane Ouattara, said discussions were over.
The four African leaders' efforts appeared to come to a head as they left Abidjan late Monday after their latest talks with embattled incumbent Laurent Gbagbo, who is facing the threat of military action if he does not stand down.
"For us, the discussions are over," Ouattara told journalists after meeting three presidents representing the 15-nation Economic Community of West African States (ECOWAS) and Kenya's Prime Minister Raila Odinga for the African Union.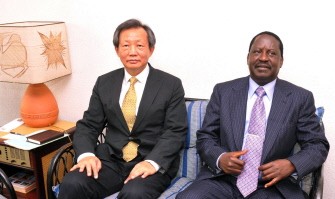 United Nations representative to the Ivory Coast Y.J. Choi (L) holds a meeting with Kenyan Prime Minister Raila Odinga (R) on the sidelines of a meeting between Alassane Ouattara and envoys representing the 15-nation Economic Community of West African States. AFP
Ouattara, holed up in an Abidjan resort hotel protected by United Nations peacekeepers since the disputed November 28 presidential run-off, repeated his demands of Gbagbo.
"One, that he must recognise the results of the Independent Electoral Commission, two, that I am the elected president, Ivory Coast's legitimate president, three that he must leave office as quickly as possible," he said.
Ivory Coast's Independent Electoral Commission as well as the UN declared Ouattara the winner, while the Constitutional Council said that Gbagbo won.
Both men have been sworn in as president and Gbagbo has said there is an international plot to depose him.
"It has been a friendly discussion, you can see us all with smiles," Sierra Leone President Ernest Koroma said after meeting Gbagbo for a final round of talks, along with Benin President Boni Yayi and Pedro Pires of Cape Verde.
"At this stage we can only say that discussions are ongoing," Koroma added.
The mediators will now report back to current ECOWAS head, Nigerian President Goodluck Jonathan, in Abuja.
Jonathan has said that ECOWAS will decide by Tuesday how to handle the impasse, amid unconfirmed reports of mass graves filled with Ouattara supporters since November's vote.
With the clock ticking, a senior US State Department official said that Gbagbo, who has relatives in Atlanta, Georgia, could seek refuge there, but that the offer would not last long.
"We want to see him leave. If he wishes to come here, we of course would entertain that as a means of resolving the current situation," the official said, requesting anonymity.
"But any opportunity to do that is an opportunity that is rapidly closing because of what is happening on the ground, and every indication we have at this point is that he's digging in," the official said.
Gbagbo, who retains control of the army, rejected an ECOWAS attempt last week to persuade him to step down and end the crisis that has sparked international condemnation and fears of a civil war.
Gbagbo said in his New Year's address that "we are not going to give up" and that calls for him to quit amounted to "an attempted coup d'etat carried out under the banner of the international community".
Sierra Leone's Information Minister Ibrahim Ben Kargbo said ahead of the talks that the envoys' task was to "give Mr Gbagbo the necessary sweets to make it easy for him to step down... there is no compromise".
West African regional military chiefs met in Abuja last week and set in motion plans to oust Gbagbo if negotiations fail, according to a Nigerian defence spokesman.
A follow-up meeting to fine-tune the "last-resort" plan is scheduled for Mali on January 17 and 18.
Tensions have risen steadily since Gbagbo and Ouattara both claimed victory in the presidential run-off vote that it was hoped would end a decade of crisis in Ivory Coast but has instead sent thousands fleeing the west African nation.
Ouattara's once-plush hotel is protected by a small contingent of lightly armed former rebel fighters known as the New Forces and 800 United Nations troops equipped with armoured vehicles and re-supplied by helicopter.
The UN says that at least 179 people have been killed in post-election violence but that it has been unable to fully investigate because of attacks on its personnel, while UN rapporteurs said they feared the violations being committed amounted to "crimes against humanity".
UN Secretary General Ban Ki-moon told Ouattara in telephone talks that UN peacekeeping forces in the west African nation had been told "to do everything possible" to gain access to the alleged sites of mass graves, a spokesman said.