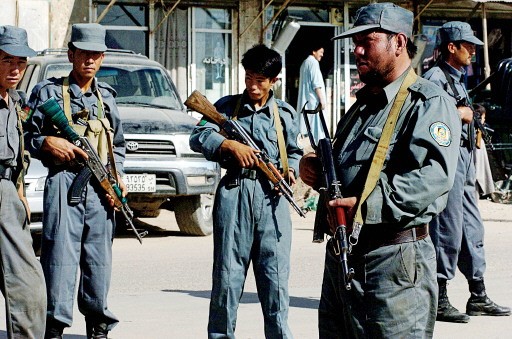 Afghan policemen stand guard at a checkpoint in Ghazni province, August 08 2007.
Afghan troops are ready to use force to free 21 South Koreans held by the Taliban but the government has stalled over Seoul's concerns for the safety of the hostages, the interior ministry said Wednesday.
Afghanistan had "significant" numbers of troops in Ghazni province, where the missionaries were abducted July 19, interior ministry spokesman Zemarai Bashary said. "We're ready for an operation."
"We've the ability to carry out an operation. The reason why we haven't yet is because we don't want to risk their lives, and the Korean government has also demanded us to not launch a military operation," Bashary told reporters.
The authorities were still trying to resolve the crisis through negotiations, chiefly through the intercession of tribal elders and religious leaders, he said.
"How much we will be successful in this, the passage of time will tell. We're working on this very seriously," Bashary said.
The Islamic militia has murdered two of its captives, and on Tuesday offered to release 16 women among the hostages in exchange for the release of Taliban women sympathisers held at US military bases here. The US-led coalition said it had no women in custody.
Bashary reiterated there would be no prisoner exchange to free the South Koreans, who were sent by their church to carry out aid work in Afghanistan.
"Regarding any deal, it definitely would not be lawful or a way out of this crisis," he said. "Any action we take must be within the limits of law."
President Hamid Karzai has vowed not to cut a deal for the hostages' release after being heavily criticised last March when the government released five senior Taliban prisoners in exchange for an Italian journalist.