After a spate of Taliban assassinations in the key

Afghan

city of Kandahar, top politicians and police are stepping up security in a desperate bid to ensure they are not next to die.
President Hamid Karzai's powerful half-brother, Ahmed Wali Karzai, was shot dead by his chief bodyguard this month, while the city's mayor Ghulam Haidar Hameedi was killed Wednesday by a suicide bomber who concealed explosives in his turban.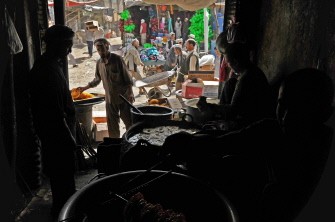 Afghan men make sweets in a shop in Kabul on July 31, 2011, on the eve of the start of the Islamic holy month of Ramadan. Throughout the month devout Muslims must abstain from food, drink and sex from dawn until sunset when they break the fast with the Iftar meal.
Now, amid growing fears over the Taliban's ability to infiltrate the security forces, influential figures in the long-violent but strategically crucial birthplace of the insurgency say they are leaving nothing to chance.
"After the assassination of AWK (Ahmed Wali Karzai) and other officials, I fear for my life," said Noor Ul Aziz, an ex-Taliban official who defected to the government side in January and now heads Kandahar's religious affairs department.
"I can no longer trust the security forces. I am planning to send my family to Kabul and I have turned to my close relatives -- brothers, cousins -- to protect me."
Police in the city are also putting in place tighter measures, according to provincial police chief General Abdul Razaq.
He said new scanners had been set up at police headquarters and the governor's office, with more planned for other government sites.
"We have also assigned some female police to search burka-clad women as the Taliban have recently carried out several attacks using them," he added.
Another potential target, the governor of Arghandab district just northwest of Kandahar, said he was worried for himself and his family but would not give in to the Taliban by quitting.
"I try to push them (the insurgents) out of my mind. I deal with it and just move ahead. It is up to God whether he wants us to live or die," Haji Shah Mohammed told AFP.
US forces in volatile Arghandab provide heavy security for both Mohammad and the district's police chief -- whose brother, Kandahar's then police chief, was assassinated in April -- saying to lose them would be a heavy blow.
"There are only two people I worry about constantly -- the governor and the police chief," said Lieutenant Colonel Michael Simmering, commander of the US Army 1st Battalion, 67th Armor Regiment deployed locally.
"If we lose them at this point, it will be a huge setback. If they ask for additional security, we give them it. I will give them everything they want."
The Taliban have long targeted government officials and police in a bid to weaken the ability of President Karzai's administration as part of a 10-year insurgency against the government and supporting troops in Afghanistan.
Limited international combat troop withdrawals started this year and are due to end with a full drawdown by the end of 2014.
But while it is high-profile assassinations which often generate the most headlines, ordinary Afghans are also victims of targeted killings, particularly those who work with the foreign military.
The United Nations said last month that violence across Afghanistan was up 51 percent between March and June this year compared to the same period in 2010.
Kandahar and the surrounding area suffered a quarter of all attacks overall and half of all assassinations in Afghanistan, it added.
Erica Gaston, an Afghanistan expert at the US-based Open Society Foundations, founded and chaired by the global investor George Soros, said officials appear to be helpless to stop the Taliban's campaign of terror.
"Civilians, particularly in Kandahar, have been subjected to unthinkable levels of violence in the past couple of years and there's nothing in the immediate situation -- from the assassination of AWK to the troop pullouts -- to suggest that stability is around the corner," she told AFP.
"This is particularly true in Kandahar, which has not only been rocked by suicide attacks and IEDs (improvised explosive devices) but a persistent, large-scale assassination and intimidation campaign -- a campaign that has not been limited to higher-level politicians like AWK."