Insurgents attacked a police post in eastern Afghanistan with guns and then detonated a roadside bomb as reinforcements sped to the scene, killing three members of an elite strike force, police said Friday.
Among the dead was the commander of the new police rapid-reaction force created in Paktia province to respond to Taliban threats, provincial police Chief Azizudin Wardak said.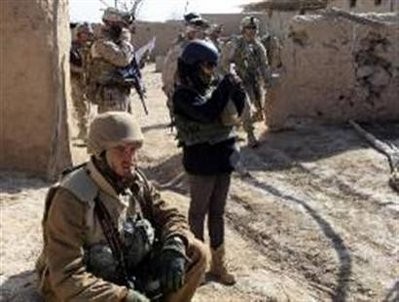 Author Golnar Motevalli is seen with U.S. soldiers the centre of Marjah February 17, 2010
Gunmen launched the attack on a post outside Gardez, the provincial capital, on Thursday night. When the rapid-response force rushed to aid the fight, the militants detonated a roadside bomb as their vehicle passed. Two other members of the force were wounded, Wardak said.
Another police officer was wounded in the gunbattle at the police post, but the small group of insurgents retreated after the bomb was detonated, he said.
The al-Qaida-affiliated Haqqani faction of the Afghan Taliban is active in Paktia as well as in nearby Khost province, where militants earlier this week launched an unsuccessful attack on the provincial government headquarters. A suicide bomber in Khost also infiltrated a base shared by NATO and Afghan forces near the Pakistan border on Tuesday night, killing two international troops when he detonated his explosives.