Visiting U.S. Secretary of State Condoleezza Rice said on Monday that Palestinian leader Mahmoud Abbas and Israeli Prime Minister Ehud Olmert had reiterated a commitment to a two-state solution.
After the three-way summit, Rice said that the other two leaders affirmed the commitment to a two-state solution and agreed that a Palestinian state can not be born of violence and terror.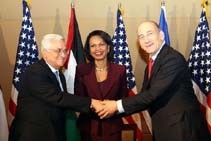 U.S. Secretary of State Condoleezza Rice (C), Israel's Prime Minister Ehud Olmert (R) and Palestinian President Mahmoud Abbas shake hands during their trilateral meeting in Jerusalem Feb. 19, 2007
The top U.S. diplomat said that Israeli and Palestinian leaders have agreed to meet again and reiterated their desire for American participation in the talks, in that vein, she would return to the region soon.
Rice said that Olmert and Abbas discussed issues arising from the Mecca agreement that the mainstream Palestinian movements of Hamas and Fatah signed in Saudi Arabia on Feb. 8 and the Quartet's position that any Palestinian government must renounce violence, recognize Israel and accept previous agreements and obligations.
Rice said that the two leaders "reiterated their acceptance of previous agreements and obligations," including a U.S.-backed roadmap peace plan.
The three also called for respecting a ceasefire between Israel and the Palestinians in the Gaza Strip reached last November, she said.
Following Rice's brief statement, a lunch meeting was held that groups Olmert, Abbas, Rice, Israeli Foreign Minister Tzipi Livni, Defense Minister Amir Peretz and Deputy Prime Minister Shimon Peres.
The summit was proposed during Rice's previous visit to Israel earlier this month, but was overshadowed by the Mecca agreement under which Palestinians will form a new power-sharing government in a bid to end sanctions led by the United States.
But Olmert said on Sunday that the United States and Israel would shun any Palestinian government that does not meet three demands set forth by the Quartet on the Middle East – recognizing Israel, renouncing violence and accepting existing peace accords. In an interview with the Israeli Ha'aretz daily on Sunday, Rice lowered expectations for Monday's trilateral summit by saying that "what I would consider a success tomorrow is that we have gotten started."