WASHINGTON (AFP) – Israeli and Palestinian leaders are set to resume direct talks on Thursday, seeking to clinch an elusive peace deal for the Middle East within a year against a backdrop of renewed violence.
As Israeli Prime Minister Benjamin Netanyahu and Palestinian president Mahmud Abbas prepared to sit down for their first direct talks in 20 months, Hamas claimed responsibility for the West Bank shooting of two Israelis.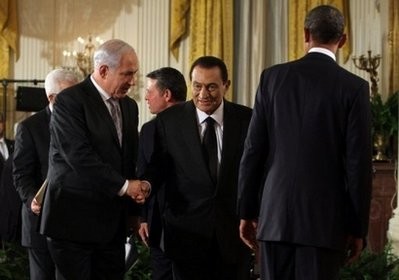 Israeli Prime Minister Benjamin Netanyahu (L) shakes hands with Egyptian President Hosni Mubarak at the White House. AFP
That attack came just a day after four Jewish settlers were killed in a shooting on Tuesday also claimed by Hamas, which is vehemently opposed to the peace negotiations.
Despite the attacks US President Barack Obama called on both sides not to let slip a fleeting opportunity for peace, a Palestinian state and a secure Israel within a year, as he gathered the two leaders, with King Abdullah II of Jordan and Egyptian President Hosni Mubarak at the White House on Wednesday.
"This moment of opportunity may not soon come again," said Obama, who met the leaders separately, and then hosted a dinner that also included Secretary of State Hillary Clinton and diplomatic Quartet representative Tony Blair.
Netanyahu vowed to forge a "historic" peace with the Palestinians and Abbas met hawkish Netanyahu's conciliatory rhetoric by calling for an end to bloodshed after the latest Hamas attacks, but also demanded a halt to Israel settlement activity.
Netanyahu's dramatic opening gambit came during a press appearance in the East Room of the White House that saw the leaders promise to search in good faith for peace after decades of strife.
"President Abbas, you are my partner in peace," Netanyahu said.
"I came here today to find an historic compromise that will enable both our peoples to live in peace and security and dignity."
But Netanyahu's warm words did not disguise the steel of his position.
After two Hamas attacks on Israelis in the West Bank within as many days, Netanyahu vowed he would secure assurances on security, warning "terrorists" would not block the path to peace.
"We left Lebanon, we got terror. We left Gaza, we got terror. We want to ensure that territory we concede will not be turned into a third Iranian-sponsored terror enclave aimed at the heart of Israel."
His office said the Israeli position remained unchanged on letting a partial moratorium on West Bank settlement construction expire at the end of the month.
Turning to Netanyahu, Abbas condemned Tuesday's attack by Hamas that killed four Israelis and Wednesday's strike in which two more were injured.
"We do not want at all that any blood be shed... one drop of blood on the part of Israelis and Palestinians," he said.
Obama had earlier branded the first attack as "senseless slaughter" and warned it was an example of how opponents of the peace effort would try to halt progress.
Hamas, which rules Gaza, is opposed to the peace talks and is a rival of Abbas's US-backed Palestinian Authority.
Abbas also demanded a total freeze on settlement activity -- without which Palestinians have threatened to walk out of the peace talks.
Obama pronounced himself "cautiously optimistic" about the day's events, though many analysts have commented that prospects for progress seem dim, given the fierce divides and lack of popular momentum for a new era of peacemaking.
"We are under no illusions. Passions run deep. Each side has legitimate and enduring interests. Years of mistrust will not disappear over night," Obama said.
Thursday's direct talks, the outcome of painstaking US diplomacy, will take place with few participants or observers predicting success amid widespread regional distrust.
The issues on the table at the US-mediated talks -- the status of Jerusalem, security, the borders of a Palestinian state and the right of return for Palestinian refugees -- have confounded all previous mediation attempts.
Despite his vow to shepherd the peace talks, Obama warned that the United States could not simply impose a solution to the decades-long conflict.
"We cannot want it more than the parties themselves," he said.
Clinton, Netanyahu and Mahmud Abbas will all make opening statements to the media at the start of their meeting, due to begin at 10:00 am (1400 GMT).
The Quartet of the United States, the European Union, the United Nations and Russia launched a roadmap for peace in 2003 that calls for a Palestinian state living alongside a secure Israel.
Top level talks in search of the elusive peace deal broke off in 2008 when Israel invaded the Palestinian Gaza Strip to halt militant rocket fire on its south.