Chilean miners trapped deep below ground mark a grim milestone Sunday -- a full month since a cave-in cut off their escape route to the surface.
But officials warned it may take even longer to rescue them.
On Saturday, the 33 men for the first time got to speak to their families by closed-circuit videolink, which relays images one way only, from the underground shelter to the surface.
The families said they would mark the one-month anniversary of the August 5 cave-in sounding horns and whistles at 2:30 pm (1830 GMT) Sunday.
"We've also got songs for them," Elizabeth Segovia, whose brother Dario is stuck underground, told AFP.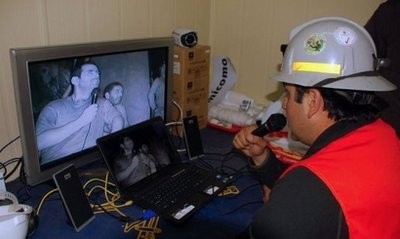 Rescuers talk to the trapped miners in Copiapo, Chile.
Over the last month the miners have become national heroes and symbols of survival since rescuers made contact with them. In Chile and abroad, audiences are following their progress in minute detail.
Rescuers and relatives who had held out hope steadily grew to fear the worst, with no word from the men for more than two weeks after the collapse at the San Jose mine in Chile's remote Atacama desert.
But on August 22, a drill bit reached the underground shelter where they had managed to take refuge, surviving by rationing cans of tuna while they awaited rescue workers.
The men attached a note to the drill, which carried it to the surface, where Chilean President Sebastian Pinera read it aloud: "All 33 of us are well inside the shelter."
Jubilation followed, with relatives of the men who had set up camp by the San Jose mine site cheering and celebrating the "miraculous" discovery.
Video images of the miners in their underground bunker -- shot with a camera sent down a narrow supply shaft -- were quickly broadcast around the world, further lifting hopes of their rescue.
But the euphoria was dampened by the news that rescuing the miners -- 32 Chileans and one Bolivian -- could take up to four months, leaving them to survive some 700 meters (2,300 feet) below ground potentially until Christmas.
A 30-ton drill that can excavate up to 20 meters (65 feet) per day began work Monday, with pauses to allow the bore hole walls to be cemented.
The painstaking process is the primary rescue route for now, but engineers have also two back-up options.
The first involves a faster drill that arrived at the mine site Friday. It will initially be used to widen the supply shaft so that larger items can be sent down, with engineers later considering whether it could be enlarged further to provide a quicker exit route for the miners.
The second option involves a football-pitch-size oil drilling platform, which Pinera said was expected to begin work on a third shaft by September 18 -- Chile's Independence Day.
The ambitious rescue task, code-named "Operation San Lorenzo" after a martyred Christian saint, has received help from the US space agency NASA, with its experience in keeping astronauts healthy and sane during long periods in small spaceships.
The only other miners to have spent almost as long trapped underground were three Chinese men rescued in July last year after spending 25 days in a flooded shaft, chewing on coal and surrounded by their 13 dead colleagues.
The Chilean miners' story has inspired songs and is already being turned into a movie, despite criticism that such a project is exploitative.
The men themselves, though still trapped in dank, difficult conditions, have learned of their new-found fame. They have spoken to President Pinera and received soccer jerseys signed by the national team; an eccentric mining magnate has even pledged 10,000 dollars for each of them.