Suspected Muslim rebels wearing police and military uniforms detonated bombs and opened fire Tuesday in a southern Philippine city, triggering clashes that killed at least nine people, officials said.
The attack began with a series of simultaneous bomb blasts that hit a sports center, near a Roman Catholic cathedral and the residence of a local judge on Basilan Island, a militant stronghold where rebels and troops have repeatedly clashed, marine commandant Maj. Gen. Juancho Sabban said.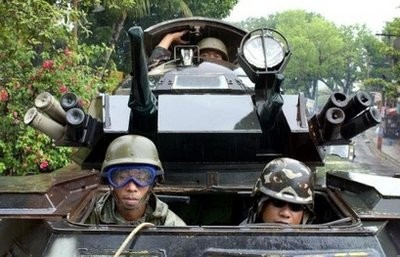 A Philippine armoured personnel carrier is pictured patrolling the streets in Isabela city, on the troubled southern Philippine island of Basilan.
He said at least three marines were killed and one was wounded by snipers while trying to secure the provincial capital of Isabela city after the blasts. Four civilians and two police officers also were among the dead, Basilan police chief Tony Mendoza said.
"The marines did not know where the snipers were firing when they were ambushed and that led to the death of three marines," Sabban told The Associated Press.
A regional military commander, Lt. Gen. Benjamin Dolorfino, said the attackers were disguised in police and military uniforms. They set a vehicle on fire and fired at anyone "who looked like military or police" as they fled the scene, Mendoza said.
Security forces were in control of Isabela and the city was cordoned off, Sabban said.
"We are advising the civilians to stay calm and not to panic and let the security forces cordon the area," Sabban said.
Troops took one suspected attacker into custody, he said.
Muslim rebels have been fighting for a separate homeland in the predominantly Catholic nation for decades. Predominantly Muslim Basilan province, about 550 miles (880 kilometers) south of Manila, is home to the al-Qaida-linked Abu Sayyaf group, notorious for kidnappings and bomb attacks over the last two decades, and the separatist Moro Islamic Liberation Front, which has a cease-fire with the government while negotiating for autonomy.
Sabban said it was not clear who was responsible, but the Abu Sayyaf and the Moro rebels cooperated in past attacks on civilians and security forces on Basilan.
One of the bombs was attached to a motorcycle, a tactic that has been used by Abu Sayyaf and Moro rebels in the past, Sabban said.
In February, militants raided a Basilan village, killing 11 people, including four children, in the wake of the recent killing of an Abu Sayyaf commander and the arrest of two key members. Government forces had been told to be on alert for reprisal attacks.
U.S.-backed offensives have considerably weakened the Abu Sayyaf, which has more than 390 fighters, but the government still considers the group a major security menace.