Gunmen wearing suicide vests stormed two Pakistani mosques belonging to a minority sect in Lahore, bringing carnage to Friday prayers and killing around 80 people.
Squads of militants burst into prayer halls firing guns, throwing grenades and taking hostages in the deadliest attack on the city of eight million, which has been increasingly hit by Taliban and Al-Qaeda-linked violence.
Both mosques belonged to the Ahmadi community, which Pakistan has declared non-Muslim. Although the estimated minority of two million has been attacked by Sunni extremists before, the magnitude of Friday's assault was unprecedented.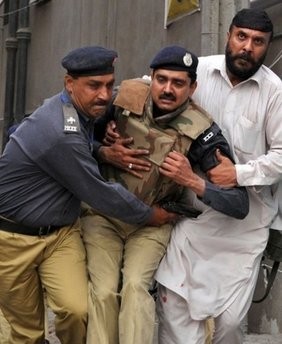 Pakistani police help an injured colleague outside a mosque in Lahore.
The United States condemned what it called "brutal violence against innocent people".
"We also condemn the targeting and violence against any religious group, in this case the Ahmadi community," State Department spokesman Philip Crowley told reporters in Washington.
EU diplomatic chief Catherine Ashton said she was "appalled".
Pakistan's leading rights group said the community had received threats for more than a year and officials blamed the attack on Islamist militants, who have killed more than 3,370 people in bombings over the last three years.
"Terrorists have attacked mosques. They are firing and using grenades. They have taken people inside the mosque hostage," district civil defence official Muzhar Ahmed told AFP from the scene in the bustling Garhi Shahu neighbourhood.
The attacks sparked more than two hours of gun battles with police and commandos, as bursts of heavy gunfire rocked the neighbourhoods and rescue services raced through the streets to tend to the victims.
"The prayer leader was delivering a sermon inside the hall when I suddenly heard distant gunshots," Bilal Ahmed, a worshipper, told AFP after fleeing with his life from the mosque in Model Town.
"Then the firing became louder and closer and people started running here, there and everywhere to save themselves. Gunmen had entered the prayer hall and they were moving towards upper floors.
"The attackers were youths with beards who were not covering their faces. The floor was full of blood and broken glass," Ahmed said.
As the gun battles ended in both locations, officials spoke of scenes of carnage -- particularly in Garhi Shahu, where dozens of bodies were found.
"Around 80 people have been killed," Sajjad Bhutta, the top city administrative official in Lahore, told reporters.
Doctor Rizwan Nasir, head of the rescue services in Lahore, said 108 people were wounded as police continued to search for any remaining attackers.
Taliban and Al-Qaeda-linked militants have orchestrated a three-year bombing campaign in Pakistan to avenge military operations and the government's alliance with the United States over the war in neighbouring Afghanistan.
Friday's attacks were the worst in Pakistan since a suicide bomber killed 101 people on January 1 at a volleyball game in Bannu, which abuts the tribal belt along the Afghan border that Washington calls an Al-Qaeda headquarters.
Nine attacks have killed around 265 people in Lahore since March 2009, a historical city, playground for the elite and home to many top brass in Pakistan's powerful military and intelligence establishment.
The precise number of attackers at Garhi Shahu was not immediately clear, but police said there were at least three in Model Town.
"They came into the mosque from the back and started firing. They were armed with hand grenades and suicide vests and other weapons," Rana Ayaz, a senior local police official, told AFP.
Officials said one of the attackers blew himself up and two were arrested -- one of them a teenager. The other was seriously wounded.
Founded by Ghulam Ahmad, who was born in 1838, the Ahmadi sect has a number of unique views including that Ahmad himself was a prophet and that Jesus died aged 120 in Srinagar, capital of Indian-ruled Kashmir.
The 2009 US State Department report on human rights says that 11 Ahmadis were killed due to their faith during the year.
The Human Rights Commission of Pakistan (HRCP) said it had warned of threats against the Ahmadi community centre in Lahore and demanded "foolproof security and protection" from the government.
It expressed concern over "the increasing sectarian dimension" of militancy in Pakistan, which it called "a big security threat to the entire society".
Religious violence in Pakistan, mostly between majority Sunni Muslims and minority Shiites, has killed more than 4,000 people in the past decade.