LUCKNOW, India, July 11, 2011 (AFP) - Rescue teams using sniffer dogs searched for bodies and survivors Monday in the mangled remains of two Indian passenger trains that derailed at the weekend, killing 69 and injuring 200.
Nearly a dozen carriages of a packed express jumped the rails in the northern state of Uttar Pradesh on Sunday, while a suspected bomb planted on the tracks in the northeastern state of Assam derailed a second train.
In the first accident, 150 kilometres (95 miles) from state capital Lucknow, rescue teams called in heavy-lifting equipment to move the damaged carriages, some of which mounted each other while others had been crushed almost flat.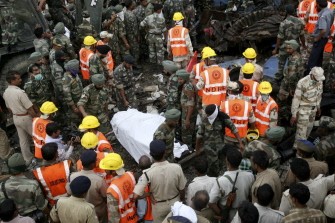 AFP - Indian rescue personnel use a stretcher to carry a body from the scene of a rail accident at Fatehpur on July 11, 2011.
Two Swedes were among the 69 killed, while a third was hospitalised, local official A.K. Pathak told AFP from the scene. About 100 people were injured and taken to local hospitals, of which about four were in a serious condition.
"Sniffer dogs have been sent in to detect any bodies trapped under sheets of metal because it is physically not possible for search parties to enter," Pathak said. "We think all the bodies have been removed now."
Anxious relatives and friends of the 1,000 passengers travelling on the train from Kolkata to New Delhi gathered at stations along the line seeking information about their loved ones.
In Assam, police said they suspected the National Democratic Front of Bodoland (NDFB), a tribal separatist group, had planted a bomb that caused the derailment of four carriages, some of which rolled into a water-logged ditch.
At least 100 people were injured, 20 critically, police said.
"We have sounded a high alert across the state with security personnel deployed in vulnerable locations to thwart rebel attacks," Assam chief minister Tarun Gogoi told AFP.
"We condemn such barbaric militant attacks like bombing trains or other such things targeting civilians."
The Guwahati-Puri Express was nearing Ghograpara, about 70 kilometres from Assam's main city of Guwahati, when it was hit by the strong blast.
"There was a loud explosion and it was total chaos soon after," passenger Jiten Das told AFP by telephone.
"The coach in which I was travelling skidded off the track and fell in marshy land with waist-deep water. Somehow we managed to get out. I cut my head and arms and have a wound in my chest."
Prime Minister Manmohan Singh, who is acting railways minister, expressed "deep sorrow and shock at the loss of lives".
On Thursday, 38 people were killed in another rail crash in Uttar Pradesh when a train slammed into a bus carrying a wedding party.
India's state-run rail network -- still the main form of long-distance travel despite fierce competition from new private airlines -- carries 18.5 million people daily.
The worst accident in India was in 1981 when a train plunged into a river in the eastern state of Bihar, killing an estimated 800 people.
The railway is the country's largest employer with 1.4 million people on its payroll and it runs 11,000 trains a day.
Experts say the creaking system, the world's second largest under a single management, is desperately in need of new investment to improve safety and help end transportation bottlenecks that threaten the country's economic growth.
"There is a real danger that the frequency of train accidents in India might soon desensitise people as 'yet another' instance of what has become thoughtlessly, mind-numbingly commonplace," the Indian Express said in an editorial Monday.
The newspaper criticised a political tradition of successive coalition governments awarding the railway ministry portfolio as a sop to important allies.
"This practice should be ended immediately and the ministry given to a responsible individual," it said.