At least 54 Myanmar migrants suffocated to death in a cold storage container as they were being smuggled into Thailand to look for work, Thai police said Thursday.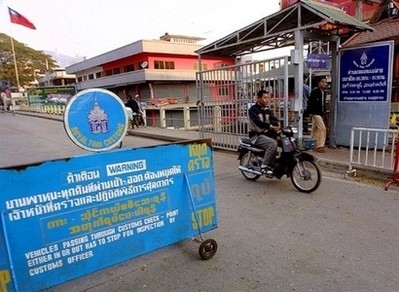 File photo shows a man riding a motorcycle past a check-point on the Thailand-Myanmar border. At least 54 Myanmar migrant workers suffocated to death, while 21 were seriously injured as they were being smuggled into Thailand inside a cold storage container, police said Thursday.(AFP/File/Pornchai Kittiwongsakul)
A total of 121 people were crammed inside a container just six metres (20 feet) long and 2.2 metres wide, said Colonel Kraithong Chanthongbai, local police commander in the border province of Ranong where the bodies were found late Wednesday.
Twenty one people were hospitalized suffering dehydration and lack of oxygen, he said, adding they appeared to be recovering after receiving intravenous fluids.
The airtight container was normally used to carry frozen seafood.
Kraithong said the migrants were supposed to pay a Thai smuggling ring some 5,000 baht (157 dollars) each to take them from the border to the nearby resort isle of Phuket.
Once there, they hoped to find work as day labourers, he said.
When the driver of the truck carrying the container realised some of the migrants had died, he parked by the side of the road, opened the door to the storage box and fled, Kraithong said.
"The people said they tried to bang on the walls of the container to tell the driver they were dying, but he told them to shut up as police would hear them when they crossed through checkpoints inside Thailand," he told AFP.
The bodies of the dead had been buried in temporary graves in a Phuket cemetery until they could be collected by relatives, he said.
The 46 people who survived without injury have been arrested, he said.
Colonel Narin Bussayawit, the deputy provincial police commander, said the container did have a ventilation system but it had broken down.
"We don't know yet whether the ventilation system was out of order when they entered the container or if it broke along the way. We are still investigating," he said.
About 540,000 migrant workers are registered to work in Thailand, most of them from Myanmar, according to the labour ministry, but as many as one million undocumented workers are believed to be in the kingdom.
Soaring exports of natural gas, reportedly worth a total of 2.7 billion dollars last year, appear to have little impact on the lives of ordinary people who struggle to eek out a living.
As a result, many choose to flee across the long land border in to Thailand, or to escape by sea to Singapore, Malaysia or elsewhere in Asia -- all treacherous journeys.
Those who do make it into Thailand often must deal with criminal traffickers who transport them to Bangkok or other major economic centres such as Phuket in dangerous and exploitative conditions.
Seven migrants and their Thai driver were killed in November during a high-speed chase to escape police.
Seven others were found dead in January, apparently having drowned in a Thai lake while making the illegal crossing.
In December, at least 22 died while making the sea journey when their boat collapsed.