At least 45 people were killed on Sunday when the army launched an attack on the flashpoint protest city of Hama in central

Syria

, a human rights activist said.
"The army and security forces entered Hama this morning and opened fire on civilians, killing 45 and wounding several more," Rami Abdel Rahman of the Britain-based Syrian Observatory for Human Rights said by telephone.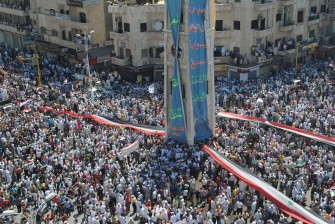 Syrians demonstrate against the government after Friday prayers in Hama on July 29, 2011.
Elsewhere, "six people were killed and 50 wounded by security forces in the eastern city of Deir Ezzor and three were killed and dozens wounded at Harak in the southern Deraa region," he said.
Since anti-regime protests erupted in Syria in mid-March, the crackdown on dissent has resulted in the deaths of more than 1,500 civilians and more than 360 members of the security forces, according to a Syrian Observatory toll.
More than 12,000 people are also reported to have been arrested in the crackdown, and thousands of others have fled the country, rights groups say.