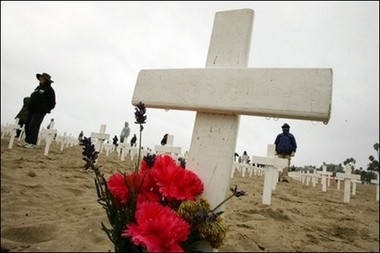 Photo dated December 2006 shows anti-war protestors standing in Santa Barbara amid wooden crosses to mark the death of each US soldier in Iraq (AFP Photo)
The US military's losses in Iraq have touched 3,000 since the invasion of the country to topple Saddam Hussein in March 2003, according to an AFP count based on Pentagon figures.

The latest announcement comes as US president George W. Bush is set to declare in the next few days his new strategy to curb the daily violence in Iraq which leaves more than 100 people killed, according to the United Nations.
On Sunday, the US military announced the death of a soldier in small arms fire near Baghdad a day ago which took its losses to 3,000.
It said the soldier was killed in southwestern Baghdad while his unit was providing "route security on a well travelled route in the area when they received small arms fire."
On its website the Pentagon said 2,999 servicemen had died in Iraq since the US-led invasion as of January 5.
According to the Pentagon of those dead 2,415 were killed in combat across the war-torn country, while 585 died due to "non-hostile" causes.
More than 22,700 soldiers were also wounded since the invasion.
Of the 3,000 dead, only 139 died during the actual invasion between March 19 and April 30, 2003.
In December 2006, a total of 111 soldiers were killed, making it the deadliest month since November 2004.
In November 2004, the military lost 137 troops, most of them killed during the assault on the western town of Fallujah.
Also in December, the number of American deaths exceeded the number of 2,973 people killed in September 11, 2001 attacks in New York.
According to the Pentagon, some 44 percent of US casualties in Iraq have come from roadside bombs or improvised-explosive-devices (IEDs) as the military calls them.
About a fifth of the US deaths in Iraq, 585 people, had nothing to do with combat at all, with 65 percent dying in accidents, particularly those involving helicopters. Another 93 servicemen took their own lives.
While army soldiers make up the vast majority of the dead -- 68 percent -- the marines are making the final sacrifice well out of proportion to their numbers in the field.
Though they make up less than 15 percent of the US forces in Iraq, they comprise almost 30 percent of the dead, pointing up the extreme ferocity of the combat in Anbar province, west of Baghdad, which they struggle to control.