Two Southeast Asian women arrested on suspicions of assassinating the half brother of North Korean leader Kim Jong-un were indicted in Kuala Lumpur on Wednesday, prosecutors said.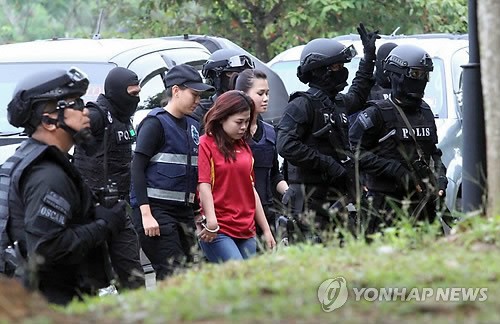 Indonesian Siti Aisyah arrives at a court in Malaysia on March 1, 2017. (Yonhap)
Indonesian Siti Aisyah, 25, and Vietnamese Doan Thi Huong, 29, have been officially charged with murder for allegedly smearing VX nerve agent, a banned chemical weapon, on the face of Kim Jong-nam at an airport in Kuala Lumpur on Feb. 13. Kim was awaiting a flight to Macau, where he lived.
Prosecutors said the two are suspected of killing a North Korean named Kim Chol, with the help of four other fugitives. Kim Chol is the name on a passport held by Kim Jong-nam.
The two suspects can be sentenced to death, if convicted of the allegations, according to the prosecutors.
They are planning to indict Ri Jong-chol, a 46-year-old North Korean man arrested in connection with the case, later this week.
Malaysia has been demanding the repatriation of the four other suspects, who allegedly fled back to the North after the incident.
A former North Korean deputy ambassador to the United Nations, Ri Tong-il, arrived in Malaysia on Tuesday amid an escalating diplomatic row over the death to request the Southeast Asian country hand over Kim's body.