At least 17 people were killed in drug-related violence in northern Mexico this weekend, nine of them in restive Ciudad Juarez, the state attorney general's office said.
In Mexico's crime capital Ciudad Juarez, which is just across the border from El Paso in the southern US state of Texas, gunmen opened fire on Saturday and killed three young students at a used car dealership.
A teenager, a woman and a 40-year-old man died in a second attack by unidentified gunmen elsewhere in Juarez, a statement from the Chihuahua state attorney general's office said.
A third triple homicide at a garage left a 13-year-old boy among the dead. Another three people were killed in separate shooting incidents in Ciudad Juarez, which has a population of 1.3 million and saw 2,900 murders last year.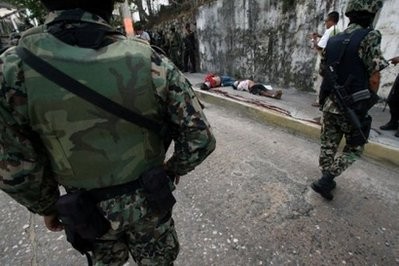 Mexican Army soldiers surround the corpses of two murdered men found near the Costera Avenue in Acapulco, Mexico, on February 5
Five men were also killed overnight in other parts of Chihuahua state, the official statement said.
Meanwhile, in the northern state of Nuevo Leon, the mutilated bodies of five men were found Sunday dumped on the side of a road. They were found in the town of Los Ramones.
The day before, authorities recovered the dismembered body of Francisco Martinez Ramirez, the chief of guards at a Monterrey prison who was dragged out of his house by armed men Friday. His body was found in a car in Monterrey, Mexico's third largest city.
Northern Mexico has suffered in the bloody war between feuding drug cartels that has left over 34,200 people dead since December 2006, when President Felipe Calderon launched a nationwide crackdown that has failed to stem the tide of violence.
Separately, Mexican soldiers have shot dead 13 suspected gang members in the northeastern state of Tamaulipas, including six gunmen who were killed in a town near the US border, military officials said.
Three other suspected gang members were arrested during patrols over the past week.
Tamaulipas has seen an escalation of violence recently between the rival Gulf and Zetas cartels as they vie for control of the lucrative trafficking routes to the United States.