Ten

Afghan

guards from a private security company were killed in an attack on a convoy carrying supplies to foreign forces, a local official said Sunday.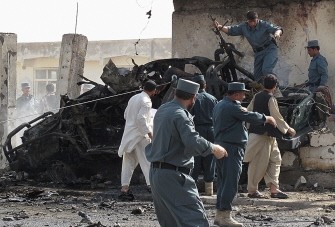 Afghan policemen inspect the site of a suicide car bombing in front of the police chief's office in the southern city of Lashkar Gah in Helmand province on July 31, 2011.
The attack happened on Saturday when the convoy was ambushed by armed insurgents in the restive central province of Ghazni, a spokesman for the provincial governor said.
"Yesterday, a convoy of logistics guarded by the Qudrat private security firm was attacked by armed insurgents in Muqur district leaving 10 guards dead and six wounded," said spokesman Maroof Ayubi.
He added that the private security firm was guarding a coalition logistics convoy travelling from Ghazni to Kandahar and that the attack lasted around an hour from 5:00pm (1330 GMT) Saturday.
The Taliban claimed responsibility for the attack in a statement on its website. Anti-government forces waging a 10-year long insurgency frequently target convoys supplying the foreign and Afghan militaries.