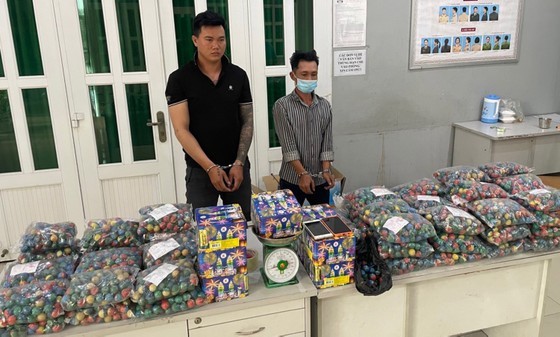 Smuggled firecrackers are seized by HCMC Police. (Photo: SGGP)
In the Southern areas and Ho Chi Minh City, to reach customers and avoid the police, subjects have created cloned accounts to continuously post articles with pictures and video clips, introducing various types of firecrackers and fireworks in online shopping groups on social networks, like Facebook and Zalo.
Meanwhile, in the North, the addresses of several outlets and authorized dealers selling fireworks products of Z121 Factory under the Ministry of Defense are publicized widely. However, it is impossible to buy a box of fireworks at the original price.
All types of fireworks available
A Facebook account under the name P.D. posted an advertisement saying he sells firecrackers at a price of VND700,000 for a bag of 100 pieces of large-sized round-shaped firecrackers and VND500,000 for small-sized ones, with pictures, video clips, and phone numbers for customers to contact. Under his video clips, there are many comments, which are answered separately by this Facebook account.
Pretending to be a person who needs to buy firecrackers, an SGGP Newspaper reporter contacted this account and received an answer that he had all types of firecrackers and fireworks. Then, he sent many pictures and video clips as well as a price list. There will be wholesale prices for customers willing to buy in bulk. Transactions are done in HCMC only, and he does not deliver firecrackers and fireworks to other provinces. When the reporter asked to see the goods first, this man told him to go to District 6 to see the goods and carry out the transaction on the spot. If customers want home delivery, they must deposit VND100,000-VND300,000, then pay the remaining amount after they receive the correct goods.
For many days, reporters had gone to the streets of District 5 to buy fireworks for Tet. However, many people said that because authorities tightened control this year, many sellers did not dare to trade fireworks like in previous years. However, some people, who used to sell fireworks, introduced sellers in other areas to reporters, but there must be brokerage fees.
Meanwhile, in Hanoi and Northern provinces, it is extremely difficult to buy fireworks at Z121 Factory's stores and authorized dealers. However, on social networks, especially Facebook, many people sell fireworks advertised as genuinely produced by the Ministry of Defense. A Facebook account named N.K.H. sells a box of fireworks manufactured by Z121 Factory for up to VND550,000, nearly VND250,000 more expensive than the factory's original price.
Another account named N.T., with the phone number 09846xxxxx, also said that he had many new fireworks boxes in 2023. Customers only need to make deposits then goods will be delivered to their places after a few days, but the selling price is up to VND600,000 per box. This person even said that due to limited supply, the closer to the Lunar New Year, the higher the prices would be. The reporter contacted a woman with the name L.H. via phone number 09781xxxxx to ask to buy fireworks after she showed on Facebook that she had a truckload of fireworks transported from the factory to a store in Hai Duong City of Hai Duong Province. When asked if she would sell at the original price, she answered hesitantly that the factory price was only VND308,000 per box, but the price fluctuated and was not fixed.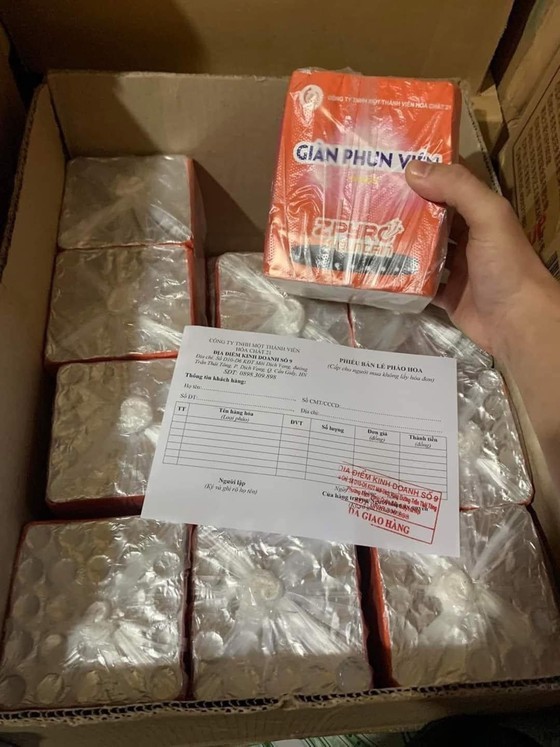 Fireworks products are sold widely online. (Photo: SGGP)
Although the fireworks manufacturer Z121 Factory has publicly listed their selling prices, due to great demand and limited supply, agents have created virtual fever by limiting direct sales at stores and putting goods on social networks for over-the-counter sale for prices 2-3 times higher than the original ones. Most of the accounts selling fireworks do not show their phone numbers and require private messages, or they have phone numbers, but the accounts are cloned. At the same time, many Facebook groups have been created to sell fireworks products of Factory Z121 at high prices, with almost limitless quantity. Notably, there have been subjects taking advantage of the virtual fever to scam consumers. A member with the nickname Tony Hoang shared that he bought some fireworks for the New Year celebration, but when he took them off to check, the firecrackers were empty and had no firework powder.
Factory Z121 said that the unit had updated the list of stores selling fireworks in 52 provinces and cities across the country. At the same time, it has also listed the price of each fireworks product. Authorized dealers must sell at this listed price. However, the actual prices at stores and social networks are being pushed up relatively high.
Difficult to buy at original prices
In Hanoi, there are 48 shops displaying and selling fireworks scattered in almost every district. This list is publicly announced on the website of Factory Z121, but they are mostly closed or out of stock.
Disguising as a fireworks buyer, the reporter visited the fireworks store No.1 in Van Phu Urban Area in Ha Dong District in Hanoi City, but this store was closed, and no one answered the phone. He continued to go to store No.37 on Dai An Street, Van Quan Ward, Ha Dong District, but this shop was also closed. Calling the phone number on the sign, a woman answered him and asked him whose order he had made. He replied that he saw fireworks products on the factory's website, so he wanted to buy some for Tet. The woman immediately replied that her store was out of stock and unsure when a new batch of firecrackers would be available.
Similarly, the fireworks store No.18 in the dormitory area of Construction College No.1 in Trung Van Ward in Nam Tu Liem District in Hanoi was also out of stock. "The factory only supplied a few boxes of fireworks in the last delivery. It is unknown when the supply is available," said the shopkeeper.
There was only an old firecracker box from 2022 at the store. The reporter wanted to buy it, but the shopkeeper rejected him because it was for display.
A fireworks store in Hai Duong receives products from Z121 Factory. (Photo: SGGP)
The reporter called the store No.13 in Trieu Khuc Village in Tan Trieu Commune in Thanh Tri District of Hanoi to ask to buy fireworks, then a man said the shop was closed for many days because police did not allow him to sell fireworks, and he did not know when sales would resume. The reporter called the mobile phone number of the store selling and introducing fireworks products of the No.21 Chemical Company in Phu Ho Commune in Phu Tho Town in Phu Tho Province many times, but no one picked up the phone. The reporter continued to call store No.7 on Phu An Street in Phong Chau Ward in Phu Tho Town - an area near Factory Z121 - but on the other end of the line, a man answered immediately that there were no fireworks. The factory did not allow the store to sell yet, and he did not know when it would be available.
According to a source from Factory Z121, authorized stores must sell products to consumers at the listed original prices. Overcharging cases will be handled. Senior Colonel Tran Anh Manh, Deputy Director of Z121 Factory, said that from the beginning of October, the factory actively implemented the plan to supply the first batch of fireworks to all authorized stores nationwide. In December 2022, it continued distributing the second batch of goods to all stores to serve the market.
According to the HCMC Police, firecracker dealers often buy firecrackers in large quantities and bring them to the city for consumption. Most of the firecrackers are imported from Thailand, Cambodia, and China to HCMC a few months before Tet. The subjects divided firecrackers into small quantities, hid them in many places, and distributed them to dealers and wholesalers. In some cases, when the police arrested them, they were only administratively sanctioned because the volume of firecrackers was not enough for criminal handling. Therefore, it is difficult to dismantle and arrest firecracker trafficking subjects. From the beginning of October 2022, the HCMC Police Department has directed the criminal police force and cyber police to strengthen, detect, and fight fiercely against online firecracker crimes. However, many people still sold firecrackers for illegal profits and were caught and handled by the police.
On the morning of December 19, 2022, Binh Chanh District police raided a house in Hamlet 6 in Le Minh Xuan Commune and caught Vu Truong Phi Long, 36, living in Binh Chanh District, for illegally trading firecrackers and seized nearly 450kg of firecrackers. At noon on December 28, 2022, Phu Nhuan District police discovered that Pham Dinh Minh Canh, 22, living in Binh Tan District, was riding a motorbike with suspicious signs, so they stopped him to check and discovered that he was carrying 14 fireworks boxes and 522 round-shaped firecrackers. Canh confessed that he bought firecrackers from the border and sold them for a profit. Lately, on the afternoon of December 31, 2022, police detected Nguyen Huu Tai, 26, living in Binh Chanh District, carrying 20 bags of round-shaped firecrackers and three boxes of firecrackers to deliver to customers. Based on Tai's testimony, the police arrested and searched Tran Quang Binh's house, 46, living in Binh Chanh District, and seized another 43 bags of round-shaped firecrackers and five bags of firecrackers.