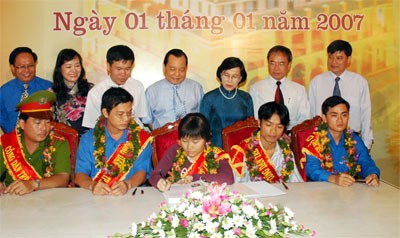 City leaders (stand) witness the winners of the Young Citizen 2006 writing their names to the Golden Book (Photo: Viet Dung)
On the first day of 2007, the Ho Chi Minh City People's Committee held a meeting between the city leaders and the five winners of the Young Citizen 2006 awards.
Attending at the meeting were Mr. Le Thanh Hai, the municipal Party Committee Chief, Ms. Pham Phuong Thao, the city People's Council Chairwoman, Mr. Nguyen Van Dua, Deputy Secretary of the city's Party Committee and many representatives of various governmental agencies in Ho Chi Minh City.
The city officials met the five winners of the Young Citizen 2006 award, including Le Thanh Thuy, Nguyen Huu An, Ho Quoc Thong, Huynh Thanh Tuan, and Nghiem Van Ut, who were chosen from among 150 nominations for their contributions to the community.
Eleventh-grade student Le Thanh Thuy suffers from severe bone cancer and has undergone several surgeries but still goes to school and remains optimistic.
Thuy could not hold back her tears when expressing her appreciation and deep thanks to her dear father, teacher, classmates and even her idol Ms. Huong Duong, who is confined to a wheelchair but has helped alleviate the plight of the blind with her audio Braille Library innovation.
In response to Thuy's worry about her learning, Mr. Huynh Cong Minh, Head of the Ho Chi Minh City Education and Training Department, said the most favorable conditions will be created for her to continue going to school while receiving medical treatments.
Another young citizen of this year is computer graphic designer Ho Quoc Thong, a former street child who has helped other street children become computer graphic designers.
He related the attendees at the meeting to his long journey from the central province of Quang Ngai to Ho Chi Minh City and the early days of settling in the southern hub. Thong said that he was very lucky to be adopted by the city's Children Sponsor Association, where there have been tens of poor children sharing the same plight with him.
Talking about his future plan, Thong said, "At the moment, my only wish is to have two new computers to teach the disadvantaged children. I started to save money but it's really tough for me to make my wish come true." Mr. Le Hoang, Editor-in-chief of the Tuoi Tre newspaper immediately agreed to provide him with the needed computers.
The third winner of the Young Citizen 2006 awards is Nghiem Van Ut, a young policeman who has acquired a good deal of merit through the apprehension of drug traffickers and keeping a safer environment for his fellow citizens.
Winners of the Young Citizen 2006 at the awarding ceremony in Ho Chi Minh City.
The two others are Huynh Thanh Tuan, a worker who has great initiatives and Nguyen Huu An, who adopted a woman suffering from cancer as his mother upond the advice of his birth mother on her deathbed. To care for his foster mother he has to work while also studying, but the modest 22-year-old said, "Anybody can do that." He is now in university doing Southeast Asian studies.
Speaking at the meeting, Ho Chi Minh city People's Council Chairwoman Pham Phuong Thao expressed her thanks to the winners' parents for their good fosterage and education. She added, "These young people always have their own dream and a strong desire to fulfill it in whatever conditions, by their extraordinary will. They have greatly contributed to the image of more beautiful and bright young citizens."
According to Mr. Le Thanh Hai, the municipal Party Committee Chief, these youths will be able to continue overcoming the difficulties to deserve the awards, being the shinning examples for the country's youths.