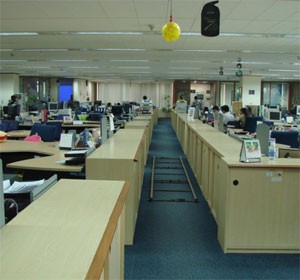 Energy is wastefully used  in offices in Ho Chi Minh City (Photo: Hoang Uy)
Recent reports from foreign experts and the Energy Conservation Center of Ho Chi Minh City have shown an alarming rate of energy waste in Ho Chi Minh City.
According to the Energy Conservation Center's chief, more than 12,000 of the 16,000 office buildings in Ho Chi Minh City are currently using energy saving approaches.
Despite the comment, a recent survey of 40 office buildings in downtown, done by foreign experts, found that 75 percent of those buildings used much more energy than average.
It also indicated that most of the energy waste derived from lights, computers, air conditioners and photocopiers.
Excuses, Excuses
In response, relevant bodies said that this issue is quite new for their staff.
However, this excuse is unacceptable as the government has already issued Decree 102 mandating the economical and effective use of energy.
In addition, dozens of the government's financial and technological support systems were created in order to help enterprises cut down their energy usage.
For example, the Demand Saving Management project was launched to provide big factories and trade centers with power saving solutions. The program offered enterprises non-refundable support worth US$38,000.
The Global Environment Fund teamed up with the Ministry of Science and Technology to implement a project increasing the efficiency of energy consumption by small and medium-sized companies in five key industries: porcelain production, brick making, food processing, textiles, and paper/pulp production.
It is conceivable that the government's energy saving policies were slowly integrated in many districts due to the limited awareness of business and city people alike. They have yet to see the benefits brought by energy saving.

Because of the revolving issue at hand for involved bodies, they can not blame their fledgling staff for ploddingly implementing those policies.
Instead of simply waiting for the government's support with experienced human resources, they can actively coordinate with experts in the energy field from research academies, institutes and universities to help speed up the process.

Decree 102/2003/ND-CP dated September 3, 2003 released by the Vietnamese Government provides regulations on economical and efficient usage of energy in production and civil.
Under the decree, equipment, materials and technology assembly lines for the energy-saving purpose are encouraged to produce or import with tax preferences.
State enterprises which apply energy-saving measures will be awarded in line with regulations on financial management and business accounting for state enterprises.
Enterprises which have project for production of energy-saving products, for import of new technology assembly lines, or for intensive investment for purpose of saving energy will be considered to be lent mid-term or long-term loans from the Fund for Development and the Fund for Scientific and Technological Development and Assistance.
The decree also stipulates that individuals and organizations which manufacture, import and trade energy-used products must clearly write norms for energy consumption in the instruction books or on the labels of the goods.
Provided that products meet specified norms, they can register to be granted certificates and their products can be pasted the stamps certifying the products meeting standards for energy saving.