Ho Chi Minh City People's Committee chairman Nguyen Thanh Phong and related agencies yesterday afternoon received a delegation from the World Bank (WB) led by the bank's country director for Vietnam Victoria Kwakwa, who came to work on cooperation programs with the city.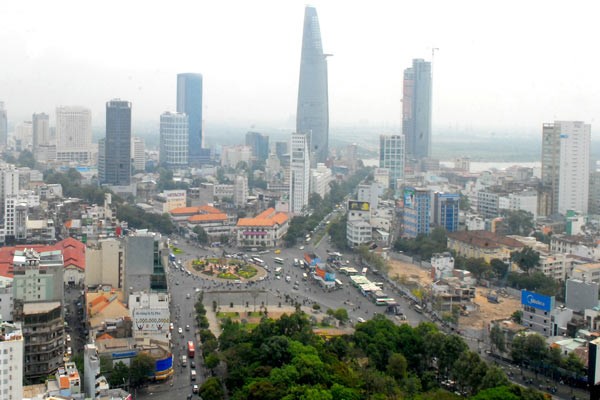 A view of HCMC (Photo: SGGP)
According Ms. Kwakwa, the delegation's visit aimed to prepare for the Fiscal Sector Development Policy Loan Program 2016 with the total funds of US$50-150 million, which will give top priority to the city's green transport development and anti-flooding projects. Via the loan program, WB will assist HCMC to build environmentally friendly transport works.
The first bus rapid transit (BRT) project under implementation suits HCMC development plan, she stated. However the city's tramway project would be ineffective because of huge capital demand for site clearance and construction hence WB will reconsider financing this project, she added.
She appreciated the progress of anti-flooding projects and hoped that site clearance and resettlement will be conducted reasonably in order not to affect citizens' lives.
WB has financed projects with an aim to ensure satisfactory compensation, accommodation and better employment. Therefore, Ms. Kwakwa suggested that the city should find out the best solutions for the city's residents when carrying out WB-funded projects.
Chairman Nguyen Thanh Phong thanked WB for its assistances in conducting many important works, meeting the city's welfare and development requirements.
The city always has a sense and determination of using WB funds as effectively as possible. Hence he proposed WB to consider providing their loans for the fiscal year of 2016, continue sending experts to work with the HCMC Department of Finance to fully work out the outline of the Development Policy Loan Program.
In response to Ms. Kwakwa's statement, Mr. Phong affirmed that HCMC would positively work with the Ministry of Planning and Investment and the Ministry of Finance to seek their approval for the program's outline and implementation.

Local authorities have focused on carrying out the BRT project in an attempt to meet residents' travel demand and reduce traffic jam. The tramway project is just an idea so the city will carefully consider it before investment.
The target of anti-flooding and urban planning projects is to improve the living environment for citizens. However the city's financial resources are limited so assistances by WB and others such as the Asian Development Bank are needed for it to implement these projects.

Local authorities have not only well resettled residents who have to remove for the projects but also looked after their employment and children's schooling, given them savings and capital assistance to start new business.
So far, 3,212 out of 3,141 households have handed over their land for anti flooding projects. The rest 71 households have refused to remove.