Voters in HCM City's District 4 expressed their opinions about the country's economic restructuring in a meeting with President Truong Tan Sang yesterday.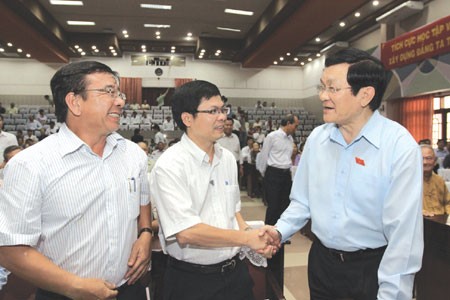 President Truong Tan Sang (right) meets with voters in HCM City's District 4 yesterday (Photo: VNA/VNS)
Sang said the big issue of reform would be discussed thoroughly at the forthcoming session of the National Assembly in the middle of May.
Voters suggested the State should offer more help to businesses and consider cutting their income taxes during times of economic difficulty. But the State budget support should not be stretched to real estate businesses, they added.
Sang also fielded questions and listened to suggestions about Viet Nam's Land Law, which is currently going through a revision process. Voters said a better mechanism was required for negotiations between enterprises and residents for land acquisition.
The president promised that voters' suggestions would be submitted to the National Assembly for consideration.
Later while noting that defending national sovereignty is the conistent policy of the Party and State, Sang stressed that peaceful measures based on international law should be used to deal with disputes.
Viet Nam has recently published its long-term plans for development of its East Sea regions, confirming its commitment to keeping the area safe and allowing it to prosper.
Earlier in the day, Sang attended a meeting with the city's People's Committee to listen to petitions and complaints registered by members of the local population. The president said that receiving feedback from citizens was essential for maintaining stability, safety and order in society.
He suggested that authorities at all levels should hold regular meetings and dialogues with their people.