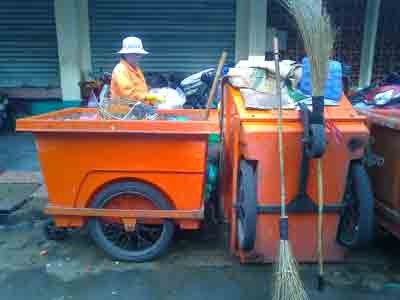 A sanitation worker collecting the garbage, bring cleaning for the city (Photo: U. Phuong)
The Ministry of Natural Resources and Environment issued a press release yesterday on "Clean Up the World Campaign" to be organized in Ho Chi Minh City on September 17.
This year's event themed "Our Place-Our Planet-Our Responsibility" will emphasize on how local action undertaken by every volunteer and community partaking in "Clean Up the World Campaign" can make a huge difference in our environment. 
The campaign is expected to attract around 5,000 people who will take part in a variety of activities such as visual displays on protecting the environment, seminars and promotional programs such as not using plastic bags, waste treatment techniques and dredging of canals in the city.
The "Clean Up the World Campaign Weekend" is held on the 3rd weekend of September each year in many nations across the globe.