Vietnam's accession to the World Trade Organization (WTO) three years ago has accelerated Ho Chi Minh City's transformation of economic structure, but there remain many problems the city needs to address, experts said.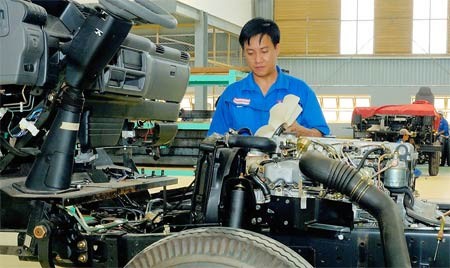 Manufacturing buses at Samco factory (Photo: SGGP)
They made the statement at a seminar held by the city's Institute for Research and Development on August 31 to review the pros and cons of Vietnam's WTO membership and the city's economic restructuring.

A study by Nguyen Xuan Thanh from Fulbright Economics Teaching Program shows that the year 2007 witnessed a boom in the growth of services and construction, while the industry sector posted high growth in 1990s.
 
Despites of the global economic crisis in 2008-2009, the city still saw stable high growth rates in services and sales in 2010, which accounted for 54.5 percent of the city's economic structure.
 
Speaking at the meeting Dr. Tran Du Lich, deputy head of the HCMC National Assembly Delegation, said the city has planned to develop high value-added industries such as mechanics, electronics, telecommunications, chemicals, pharmaceutical chemistry and processed foods, but so many enterprises have still engaged in outsourcing.  
 
Implementation of some major projects has been still slow, and many key industries have seen low growth.
Experts said the city's economic restructuring needs to focus on quality and attach much importance to the role of private enterprises, administrative reform and development of the real estate market.
 
Dr. Lich said the city has to form a healthy and equal competition environment for all firms instead of only emphasizing the role of state-owned enterprises.