The Vietnamese Brand Name awards were given to 32 outstanding companies which were selected by Sai Gon Giai Phong readers at a ceremony in Kim Do Hotel on January 5.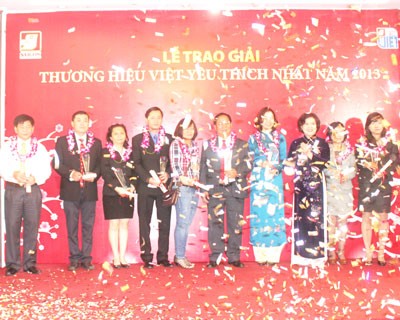 City leaders give Vietnamese brand name awards to enterprise representatives at the ceremony (Photo: SGGP)
Speaking at the ceremony, Nguyen Tan Phong, Sai Gon Giai Phong Editor-in-chief, said that the Vietnamese Brand Name program is one of Sai Gon Giai Phong's programs which are launched as per the Politburo's direction on 'Vietnamese people use Vietnamese commodity' campaign to honor and encourage local enterprises to make their high quality products.
Launched in eight years, the program has really become a bridge to connect enterprises and consumers. This year, the Ho Chi Minh City People's Committee granted certificates of merit to 19 companies which have won awards in five successive years.
Addressing at the award ceremony, Nguyen Thi Hong, Deputy Chairwoman of HCMC People's Committee, stressed that the city's economic is showing signs of rebound. The percentage growth rate of 2013 Gross Domestic Product and and Consumer Price Indexin the city estimated at 9.3 percent and 5.1 percent respectively.
City authorities were making great efforts to develop the economy. In the current context, Vietnamese enterprises really need social supports therefore she highly appreciated the SGGP program. She affirmed that Sai Gon Giai Phong's program is meaningful in encouraging local enterprises.