The number of robberies and thieveries in Ho Chi Minh City has increased sharply of late and getting more complicated, said officials and local residents.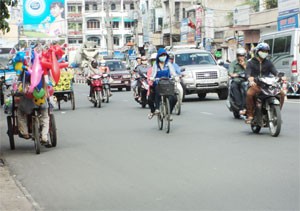 More robberies and pick-pocketing have been reported on HCMC streets of late, even during peak traffic hours (Photo: Minh Tri)
People were robbed not only on deserted streets or at night, but at anytime they were off-guard.
A store owner on Ton That Thuyet Street in District 4 said "Pick-pocketing in the street happens every day, even at peak traffic hours."
A victim of pickpockets from District 1, only identified by her initials, recalled several days ago, she stopped her motorbike to answer a phone call, which was less than a minute.
Many street vendors had surrounded her during the phone call and when she looked back, someone had cut the handle of her suitcase hung on the motorbike and took the suitcase, which contained her laptop.
"All the reports and customers' information I saved in the laptop were gone," said the 32-year-old airport official.
As Saigon Giai Phong reporters observed, pick-pocketing have been committed by groups with preparation instead of simultaneously by individuals.
In a recent case, two men stopped at a café in District 3 and the one riding pillion went to behind a customer at the shop, stealing his bag and came back to the motorbike, which left before people at the shop knew what happened.
A woman from District 7 said that some robbers rode a motorbike passing her a couple days ago and "gently" took her pocket help under my arm, as she was walking with a lot of goods from a shopping day.
Last month, some thieves have pretended as workers from a water supplier to fix the pipeline at a house in District 7.
They asked a person in the house, as the other was lying sick, to go around the house getting different things, said the house owner, who found they lost VND200 million after the fake pipeline fixers left.
Figures from Phu Nhuan District Police showed that 43 robberies and thieveries had occurred in the district this year, up 13 year on year, including 28 break-ins.
The crimes have targeted motorbikes, even cars, at parking lots around the city.
A motorbike parking lot in District 11 early this month reported a loss of nine motorbikes, including six from expensive brands, worth more than VND200 million in total.
All locks into the parking lot were compromised, a guard said.
In late June this year, police in the city also received a report from a resident who lost a Camry automobile worth more than $70,000 from the parking lot of a luxury apartment building.
Major-general Nguyen Chi Thanh, director of HCMC Police, said that the number of thieveries and robberies has increased in almost all over the city.
The crimes also happened in District 1, targeting foreigners in the backpacking town, Thanh said.