At the meeting, Secretary of the city Party Committee Nguyen Thien Nhan expressed his pleasure at good strategic partnership between the two countries, being key foundation for both sides towards the 10th anniversary of the establishment of the strategic partnership in 2023.
Last year, the Indonesian minister visited and worked with Vietnamese Prime Minister Nguyen Xuan Phuc on maritime and environment issues.
This visit contributes to carrying out the action program for implementation of the Vietnam-Indonesia strategic partnership in period of 2019 – 2023 as well as deepening the relationship.
On this occasion, Secretary Nhan proposed expanding aviation and maritime connections between Vietnam and Indonesia with a purpose of exploiting potentialities as well as strengths of the two nations.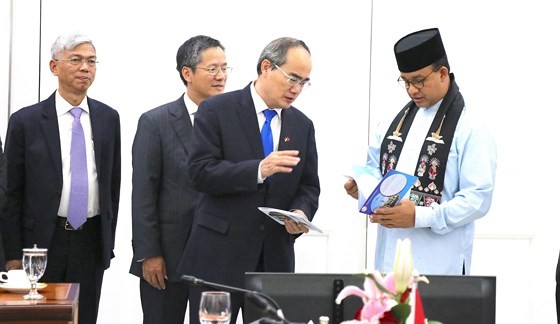 City Party Committee Secretary Nguyen Thien Nhan introduced the project on building Ho Chi Minh City into a smart city. (Photo: KIEU PHONG)

He also put forward cooperative ideas in key fields via Vietnam and Indonesia co-organized the ASEAN Sustainable Urban Development Forum.
With the consents of the Minister of National Development Planning and the Minister of Maritime Affairs, Ho Chi Minh City's leaders will report to the Vietnamese Prime Minister of Vietnam on proposal of Vietnam and Indonesia to co-organize a workshop on this topic, affirmed the city Party Chief.
According to Secretary Nhan, the sustainable urban development needed to focus on three main contents including climate change and flooding in big cities of the Southeast Asia states. Thus, Ho Chi Minh City (Vietnam), Jakarta (Indonesia) and Manila (Philippines) are expected to co-organize this forum to share experiences on climate change adaptation.
"Sharing and exchanging experiences are not only a technical and financial issues but also feasible solutions for the program implementation" proposed the city Party Chief Nguyen Thien Nhan.
Solutions on traffic problems in Ho Chi Minh City, Jakarta, Manila and Bangkok along with cooperation on start-up support program for small- scale businesses are key contents of the cooperation program.
These formed cooperation forums will contribute to raising the role and position of Vietnam, Indonesia and the Southeast Asian countries, emphasized Secretary Nhan.
Indonesia is well-known as a maritime country with two-thirds of its territory which occupied strategic positions in the Indian Ocean and the Pacific Ocean as the world's transport axis, being an important factor in maintaining international maritime freedom and security, especially at interaction junctions of maritime trade routes connecting the East - North and North – South.
The Coordinating Minister for Maritime Affairs of Indonesia hoped that this trip would open opportunities for extensive cooperation between the parties.
Indonesia is speeding up as well as paying attentions in human resource and infrastructure developments. Currently, the country is focusing on marine economy and maritime.
Human resource and infrastructure developments are two cooperative sectors between the two countries, added the minister.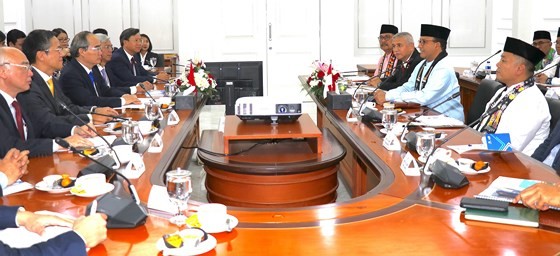 The high-ranking delegation of Ho Chi Minh City talks with Jakarta authorities. (Photo: KIEU PHONG)

Minister Luhut Binsar Pandjatan is willing to coordinate in the organization of the sustainable urban development forum. His country wants to strengthen further cooperation with Vietnam to bring trade and investment benefits for each parties, support each other to solve challenges.
On the same day, Secretary of the city Party Committee Nguyen Thien Nhan led the high- ranking delegation paid a courtesy visit to Anies Baswedan, Governor of Jakarta.
At the meeting, the delegates discussed economic development, creative start-up programs, transport planning, anti-flooding and climate change adaptation.
Besides that, the possibility of establishing friendly and cooperative relations between Ho Chi Minh City and Jakarta was also informed at the meeting.