Deputy Secretary of the Ho Chi Minh City Party Committee cum Chairwoman of the Municipal People's Council Nguyen Thi Le led the working delegation.
At the meeting, the President of the National Assembly of Cambodia appreciated Vietnam's overall achievements in the country's construction and development processes.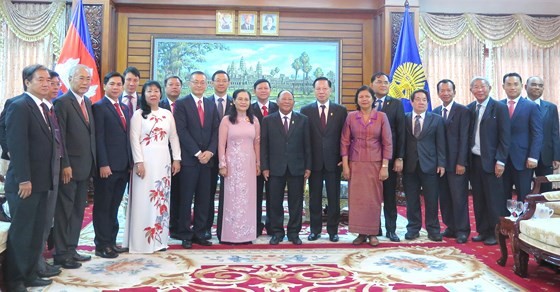 The high- ranking delegation of Ho Chi Minh City pose for a photo with the Cambodian National Assembly delegation
Under the leadership of Vietnamese Communist Party, Vietnam has not only been harvesting more and more success in the country development but also expected to become one of the fastest-growing hubs in ASEAN in the near future, the Cambodian leader said.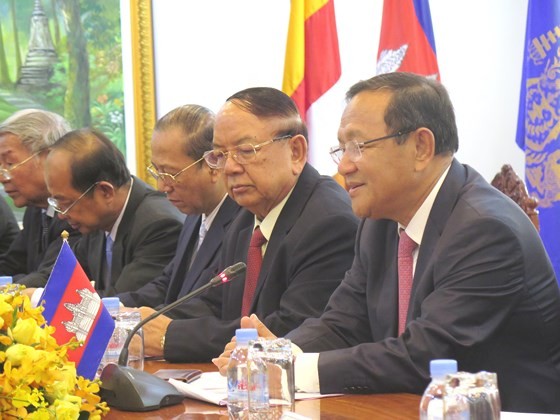 Mr. Pa Socheatvong, Chief of Phnom Penh City Council speaks at the talk

Regarding the relationship between Phnom Penh and Ho Chi Minh City, he supported comprehensive and close cooperation ties between the two sides.
Speaking at this courtesy visit, Chairwoman Nguyen Thi Le congratulated the neighboring country for multifaceted achievements and she praised the friendship and comprehensive relations between the two countries during the previous time.
Vietnam always respects and focuses on the priority relationship with Cambodia, and wants to coordinate with the partner for development of the long-term sustainable traditional friendship and comprehensive cooperation and bring practical benefits to the two countries' people, contribute to maintain peace, stability, cooperation in the region and the world.
Ho Chi Minh City always strives to boosts cooperation activities with Cambodia, including Phnom Penh such as: carrying out projects of Phnom Penh Cho Ray General Hospital, the Faculty of Vietnamese Studies in a Cambodia's university as well as the social – charitable activities.
On the same day, the city's delegation had a talk with Mr. Pa Socheatvong, Chief of Phnom Penh City Council on socio- economic development of Phnom Penh and Ho Chi Minh City.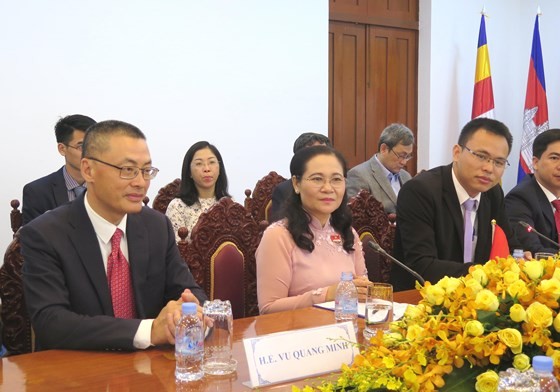 A talk on socio- economic development of Phnom Penh and Ho Chi Minh City
The two sides wanted to boost cooperation between the two countries' departments and agencies in the fields of tourism, agriculture and transportation.
Regarding the Phnom Penh Cho Ray General Hospital Project, both sides expected to remove difficulties on mechanisms and human resources so that the hospital puts into operation effectively and improve the quality of serving patients.
Earlier, the delegation had visited and laid wreaths at the Cambodia - Vietnam Friendship Monument. On behalf of the Ho Chi Minh City Unit of Communist Party of Vietnam, Government and People, the delegation visited the Vietnamese Embassy in Cambodia and offered US$ 10,000 of to the Khmer-Vietnam Tan Tien friendship primary school.