The number of vehicles plying on the Ho Chi Minh City-Trung Luong Expressway has fallen sharply, soon after the expressway began charging toll fees on Saturday.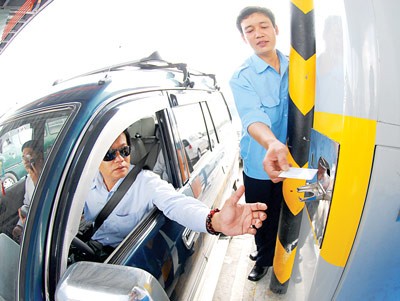 A staff guides a driver to press a button to take card from automatic machine at Dem Market toll station on the HCMC-Trung Luong Expressway on February 26 (Photo: SGGP)
On Sunday, most of the vehicles travelling on the expressway were only cars and buses, and there were fewer heavy lorries and container trucks to be seen at the Than Cuu Nghia toll station in Tien Giang Province.
Meanwhile, the number of vehicles on Highway 1A increased in comparison to other days.
According to Nguyen Van Phong, deputy director of the Cuu Long Corporation for Management, Investment and Development of Traffic Infrastructure (CIPM), the number of vehicles travelling on the expressway over the last two days decreased to about 18,000 a day, most of which were cars, buses and light trucks. The corporation believes that numbers will fall further.
Before the toll fee charge, the expressway received 32,000-35,000 vehicles a day.
Several truck drivers said that although it takes more time to travel on Highway 1A, they still chose this route to save costs amidst   difficult economic times.
Luong Hoang Trung, deputy chairman of the HCMC Cargo Transport Association said that the toll fee is too high, hiking the freight rates by 20 per cent, to transport goods from HCMC to the Mekong Delta and vice versa.
The Expressway has set a minimum fee of VND40,000 and maximum of VND320,000.
Besides, a separate toll rate for different kinds of vehicles was also not fair, he said. For instance, trucks with capacity of 10-18 tonnes pay only VND4,000 a kilometre while over 18 tonnes must pay up to VND8,000 a kilometre.
Transport businesses are about to lift freight rates up, which might lead to increase on prices of commodities, according to the association.
Meanwhile, CIPM is planning to set up a toll post on Highway 1A to prevent trucks from continuing to avoid the expressway. However, the company has yet to determine when they will start construction.
Several drivers said the corporation's plan is irrational and the company should adjust the freight rates to encourage vehicles to ply on the expressway.
Related articles:
Transport Association protests high Expressway toll fee
HCMC-Trung Luong Expressway to charge toll fee