Contractors and construction units of three urban projects are continually digging the streets while the HCM City People's Committee's says they must dismantle barriers of all completed work and fill up holes before January 18  as a measure to ease traffic congestion during Tet holidays.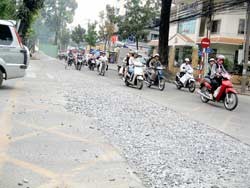 A section of "completed" Nguyen Dinh Chieu Street
At present, the street that scares many drivers in the city is the one running along Nhieu Loc Canal, which has become a great construction site for a few years now.

Many people dare not take the street because of large potholes lying like traps for drivers, especially motorcyclists.
 
Another dangerous trap is on the section of Xo Viet Nghe Tinh Street that runs past Tu Do household appliance supermarket. Although the contractors have dismantled the barriers of completed projects, they have not resurfaced the roads adequately.
 
Le Minh Hoang, pump attendant at the petrol station opposite the supermarket, said, "Accidents occur on this section of the street everyday. Drivers fall off their motorbikes because the surface of the newly resurfaced road goes up and down like waves."
 
Similarly, on Lac Long Quan Street of District 11, after completing work and filling holes, the construction firm only paved a thin layer of asphalt on the street. After only a short time the surface of the street has already gained numerous potholes.
 
Pham Minh Tam, a resident of Ward 8 in Tan Binh District said, "It's no doubt that contractors and construction firms have rebuilt the surface of dug streets just for form's sake. On many dug streets, the newly re-laid section is much higher than the existing one, but no one cares."
 
Nguyen Van Troi and Nam Ky Khoi Nghia, the two streets that lead to the Tan Son Nhat International Airport, are not an exception. Pham Ngoc Cong, lecturer at Danang University, driving on Nguyen Van Troi Street on a trip to the city said, "I've traveled in many provinces and cities throughout the country but nowhere else has its system of streets and roads as terrible as the city."
 
HCM City Traffic Safety Board has recently worked with the Inspection Board of the HCMC Department of Transport to check the contractors dismantling of roadworks.
 
Tran Hong Nam, deputy inspector of the Department, announced that it will force all contractors and construction firms to finish resurfacing by January 18. Those who cannot fulfill their job on schedule will be fined.
 
Whether they will fine contractors and construction firms that have poor standards of resurfacing is open to question. 
 
The three urban projects are   East-West Highway, Nhieu Loc-Thi Nghe Canal and Water Supply Projects
 
In 2008, construction firms completed 49.6km of streets, about 43 percent of projects under construction. Some of the 56.7km of roadworks are scheduled to be completed in 2009.