Ho Chi Minh City authorities have constantly striven to help all drivers owning unregistered home-assembled three and four wheel vehicles to find alternate means of income or to replace their banned vehicles with registered brand models, however, several still continue to ignore the ban.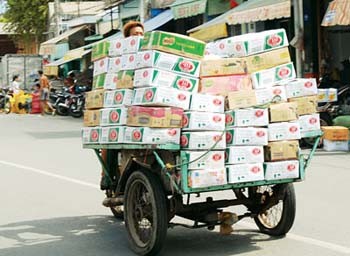 Home-assembled vehicles ply on many HCMC streets (Photo: SGGP)
For the last two years, City authorities have offered financial assistance to drivers to buy new vehicles or attend career training courses to find alternate modes to earn their living.
Since January 2008 the Government has in effect a ban on all unregistered three and four wheel vehicles, which are not roadworthy, a threat to traffic safety and should be impounded if found on the city streets. Regardless, such vehicles continue to ply on the city streets.
Owners of these unregistered vehicles continue to flaunt the ban by using them as goods carriers, even during ban hours from 5am-1pm in inner city areas and 6am-8am on highways. Many of these vehicles can be found at any time on Highway 13 and Dinh Bo Linh Street in Binh Thanh District; Truong Chinh Street in Tan Binh District and Cach Mang Thang Tam and Vo Van Tan in District 3.
Pham Van Toan, who transports goods for a plastic factory in Nguyen Thi Nho Street in District 11, says he has come from the southern province of Dong Nai and has no job or career and hence has to use his three wheel vehicle to transport goods and earn his daily bread. Even though Toan has been fined many times by the traffic police, he continues to ply his vehicle as he has no other choice.
The Department of Finance in the city says that over 24,000 three and four wheel vehicles are unregistered, of which 3,000 scooters belong to the poor and impoverished.
The city has already spent over VND120 billion (US$5,700) to help drivers purchase new vehicles and also mobilize benefactors in districts to donate and help the poor drivers.
The city has also gone out of its way to support the poorer drivers by compensating VND 7 million to a driver whose vehicle is impounded by authorities and also gives support of VND3.6 million to any driver wanting to train for a new job. Each household also receives a loan of VND50 million to buy a new vehicle.
According to the Ho Chi Minh City Road Traffic Police, 21,000 unregistered vehicles have already been impounded but a large number can still be seen plying on the city streets.