The twin bridge Binh Trieu No.1 and No.2 on September 4 opened traffic again after repair and upgrading.
The Binh Trieu No.1 has come back its operation after 15 months of repair and upgrading.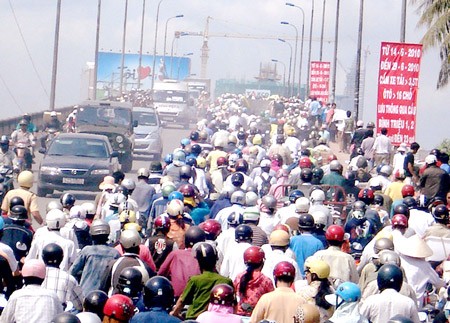 Traffic on Binh Trieu 2 Bridge. (Photo:SGGP)
More than 50 years old, the bridge, now has three 3.5m lanes, two for automobiles and one for motorcycles. It links Xo Viet Nghe Tinh Street in Binh Thanh District with Road No13 that goes to Binh Duong Province and further on, to the Central Highlands.
The usage period of the project would be 30 years.
Ho Chi Minh Infrastructure Investment Joint Stock Company (CII) said it will collect toll again for Binh Trieu No.2, which is expectedly contribute to the company's revenue from toll collection.
It's estimated that CII's turnover time would be in five years and six months.
Earlier, CII stopped collecting tolls for Binh Trieu II in order to avoid traffic jams due to Binh Trieu N.1 was repairing.
In related news, Hoang Hoa Tham Bridge, one of the bridges crossing the Nhieu Loc – Thi Nghe Canal, officially opened to traffic on Thursday after 12 years of construction.
The 103m bridge, which links Van Kiep Street in Binh Thanh District with Tran Quang Khai Street in District 1, will help ease traffic congestion in the two inner districts of HCM City.