Strong winds during a heavy rain on Saturday felled many trees in Ho Chi Minh City, causing traffic congestion.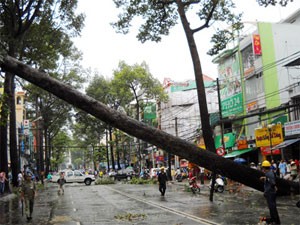 A tree falls on Nguyen Tri Phuong Street during a windy rain in Ho Chi Minh City Saturday
Some of the trees fell across the streets, including one around half a meter in diameter on Nguyen Tri Phuong Street. Several others fell onto residents' houses.
Many branches also dropped from 20 meters on the city downtown, such as Nguyen Dinh Chieu and Hai Ba Trung Streets.
No one has been reported being killed by the falling.
However, a tree uprooted in front of Pham The Hien apartment building in District 8 has damaged the power and Internet cables hung across the street.
Hundreds of people in the building rushed away in panic.

Another one around 15 meters away also caused slight injuries to two motorbike drivers and damaged a fruit booth of a vendor.
At Le Thanh Ton and Dong Khoi street corner, an ironwood tree 0.4 meter in diameter fell and crash the traffic sign pole, worsening the traffic during peak hours.
Three other ironwood trees at a Pham Ngu Lao street corner, ranging between 0.4 and 0.5 meter in diameter, were also uprooted and ended up across the street.
A traveler named Chau Quang Trung was hit by the trees and suffered neck injuries while his motorbike was badly broken.
Meanwhile, a tree on Pham Ngoc Thach Street fell on a taxi cab, which was parked with no one inside.
The strong winds also felled 100 meters of fences surrounding a street project on Ben Van Don, District 4, and nearly 15 meters of fences of Hoang Nam residential project in District 8, forcing motorbikes to move to the car lanes.
Many houses in District 8 had their roofs swept by the weather, which was impact of Nock-ten typhoon, the third formed on the East Sea and affecting Vietnam this year.