Ho Chi Minh City holds a ceremony to celebrate the opening of the Thu Thiem Tunnel and the 22 km East-West highway

at 2 pm this afternoon (Nov 20), attended by thousands of citizens and high ranking dignitaries.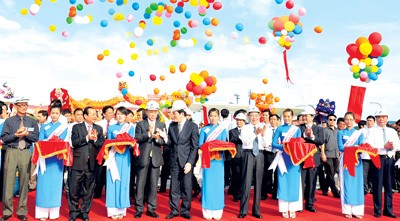 The openning ceremony
State President Truong Tan Sang, Former PM Phan Van Khai , Vice PM Hoang Trung Hai, Japanese Ambassador to Vietnam were among the guest at the ceremony.
The ceremony was broadcasted live on HCMC televison.
Thu Thiem Tunnel and the entire East-West highway will be officially open to traffic from November 21 linking the national highway route number 1 from Binh Chanh District to the Cat Lai intersection in District 2.
Thu Thiem Tunnel is the most important section of the East-West highway project in HCMC. Built at a total cost of US$189 million provided by Japanese ODA, it has been constructed by a consortium of four Japanese contractors: Obayashi Corporation, Taisei Corporation, Kumagai-Kajima consortium and Toa Corporation.
The highway will connect the existing urban center of Ho Chi Minh City with Thu Thiem New Urban Area in District 2 and substantially reduce travel time from East to West of the City to a mere 20 minutes.
The heavy traffic congestion in HCMC will be much reduced with the East-West highway.
Living standards of residents along the Thu Thiem zone and southern zone of HCMC will improve greatly and the earlier foul smelling Tau Hu-Ben Nghe canal will be cleaned up.
Thu Thiem Tunnel is the largest and most modern tunnel in Southeast Asia, with a length of 1.49 km, width of 33 m, height of 9 m, with six traffic lanes, each of the three lanes for cars and motorcycles. There is also a two lane exit at both ends of the tunnel.
Motorbikes will be permitted in the Tunnel from 6:00-21:00 hours daily. The tunnel is expected to receive 30,000 automobiles and 50,000 motorbikes per day.
The maximum and minimum speed for cars is 60 and 30 kilometers per hour and cars travelling on the same lane will be required to maintain a safe distance of 30 meters from each other. The maximum speed for motorbikes is 40 kph.
Motorcyclists should use helmets that cover their ears, to reduce the noise level of ventilation fans and vehicles inside the tunnel. Children should not be taken inside the tunnel as the high noise level could be disturbing for them.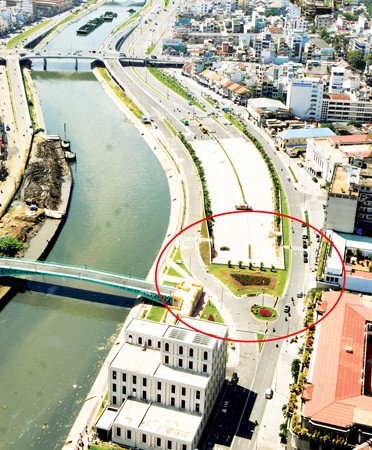 Thu Thiem tunnel in Vo Van Kiet boulevard
HCMC People's Committee has issued regulations to ensure security, fire fighting and prevention and emergency rescue operations in the tunnel. However, in case of major accidents that require closure of the entire tunnel, the HCMC People's Committee will direct the rescue operations.
The center installed an additional 6 reactor power fans and 2 exhaust fans at both ends of the tunnel to circulate the air and filter dust.
Mr Motonori Tsuno, chief officer of JICA in Vietnam affirmed that even in case of accidents such as fires, high tide or heavy rain, the tunnel was safe and secure and travelers must rest assured that every aspect of security has been looked into in great detail.
There are emergency exit doors in the tunnel after every 50 meters, which lead out to a 2m wide underground trench linked to both ends of the tunnel. Enough lighting and air will always be available in the tunnel round the clock.