The Thu Duc Water B.O.O Corporation on Monday officially inaugurated the Thu Duc Water Plant in Ho Chi Minh City. The facility supplies 300,000 cubic meters daily.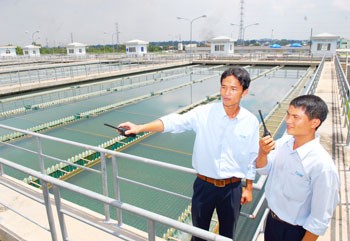 A corner of Thu Duc Water Plant
The water plant is located in Linh Trung Ward, Thu Duc District.
The whole system includes Hoa An Raw Water Intake Pumping Station of 315,000m3/day in Dong Nai Province; a water treatment plant, a water treatment reservoir of 43,500m3, a pumping station and management center covering on an area of around 7 hectares in Thu Duc.
A 26-km long pipeline system is operational to supply water to as far as Nha Be District.

All the output will be wholesaled to Saigon Water Supply Corp. (Sawaco) in the first 10 years to supply clean water in districts 2, 4,7,8,9 and Nha Be District.

The waterworks is the first project under the Build-Operate-Own (BOO) form in HCM City.

The project was funded more than VND1,700 billion, including VND500 billion from the shareholders -- Water and Environment Joint Stock Company (WACO), Ho Chi Minh City Infrastructure Investment Joint Stock Company (CII), Construction Corporation No. 1, HCMC Investment Fund for Urban Development (HIFU), Refrigeration Electrical Engineering Corp. (REE), and Thu Duc Housing Development Joint Stock Company. The rest came from loans.
Speaking at the inauguration ceremony, city vice chairman Nguyen Thanh Tai said the water sources have to meet water quality standards.
He added the Thu Duc Water B.O.O Corporation and Sawaco had to complete the pipeline system bringing clean water to inner city areas lacking of safe water.
In related news, city chairman Le Hoang Quan inspected the project progress of the renovation and upgrading of Rung Sac road and clean water supply project in the outlying district of Can Gio.
Mr. Quan stressed that these key projects are meaningful to the city's socio-economic and political development. He said investors have to hasten the progress of the construction of the projects and put them into operation before next year's Lunar New Year holidays.