19,000 companies in Ho Chi Minh City had covered social insurance of over 687,000 workers, said a representative of the city's Social Insurance Agency on Wednesday.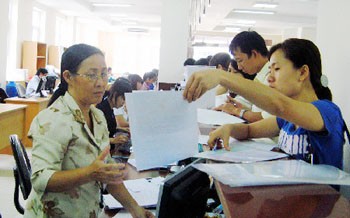 An employee (R) guiding a woman at the HCMC Social Insurance Company (Photo: SGGP)
Mr Cao Van Sang, director of the agency reported to the National Assembly's Committee for Social Affairs at the surveying conference on use and management of the social insurance fund.
Mr. Sang unveiled a total debt of about VND373 billion (US$18,000), with several companies owing debts lasting many years.
Last year the city recovered a total insurance amount of nearly VND9.8 billion from over 38,000 companies, organizations and individuals. The social insurance company also sued 150 businesses and was able to collect VND11 billion of debts.
At present, the company is still continuing proceedings against 130 other companies.
Business owners have used many ways to appropriate their workers' social insurance. Sanctions in this matter have not been particularly strict, with bosses accepting to pay penalties rather than returning employees social insurance.
Although the social insurance law prosecutes violators of regulations, the criminal justice law has yet to punish social insurance violators. Regular investigations have also not been carried out by relevant authorities.