Doctors in Ho Chi Minh City's Cu Chi District said thieves poisoned five people in order to rob them. Two of the victims later died in hospital due to late discovery.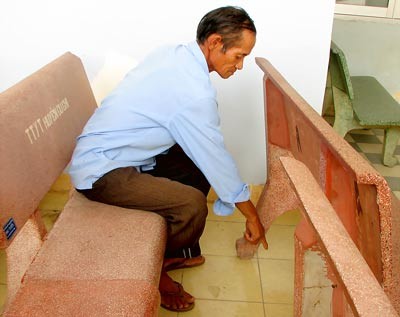 Victim Truong Van Ngam shows to the police the place he was poisoned (Photo: SGGP)
Nguyen Phu Dinh, chief of the Planning Department of the Cu Chi General Hospital, said May 14 the hospital reported to the city's Department of Health about five persons who had been taken to emergency after being poisoned. Two of them died.
The victims include Truong Van Ngam, 54, from the southern province of Tay Ninh, who was taking care of his wife in the hospital.
He said he was invited to drink coffee bought by strangers and afterwards he was in a coma and robbers took away all his money of VND800,000 and mobile phone.
Another victim, Huynh Van Ni, 60, a motor taxi driver from the southern province of Long An, was found out late. He died in the hospital.
Those victims still alive after being treated told doctors that they had taken some drinks brought to by strangers and then lost consciousness.
The victims spoke about three strangers --  two men and one woman. One man aged about 30 was wearing expensive clothes, the other man about 20 had a northern accent and the woman was a pretty lady with bleached blonde hair and painted nails.
Doctor Phan Van Nghiem from the city's Department of Health instructed the Cu Chi General Hospital to seek to raise awareness among medical workers, patients, and relatives who are taking care patients. Doctors are asked to take blood samples for tests to check liver and kidney of victims work well as well as to find out what the poison is. The hospital decided to provide free treatments to the poisoning victims.
Nguyen Van Dat, chief of district Cu Chi, May 15 said police encircled a house in the rent house in Phuoc Vinh An commune and arrested a woman, Pham Thi Trung from the southern province of Tay Ninh. Trung confessed to poison victims and police have captured two motorbikes and some material evidences.
District Cu Chi's People's Committee has ordered police to further probe to catch her accomplices who have disappeared as this is dangerous crime, said district chairman of People's Committee Le Minh Tan. The criminals aimed at trusting people who have small families.