1. National Assembly passes a resolution on specific mechanisms for HCMC
The 14th NA pressed the button to pass Resolution 54 on piloting specific mechanisms for HCMC development on November 24. The specific mechanisms comprise 18 contents in five fields including land, investment, finance-budget management, decentralization, payroll for civil servants and cadres.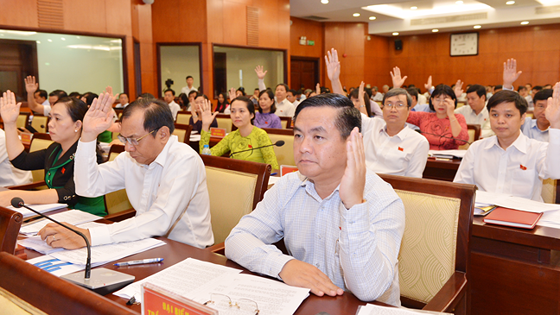 HCMC People's Council deputies raise their hands in favor of a council meeting's agenda (Photo: SGGP)
2. HCMC obtains many norms in socio, economic development
Gross Regional Domestic Product growth rate reached 8.25 percent, higher than 2016 when it was 8.05 percent. Economic structure continued moving toward gradually increasing the ratio of high quality and high added value services with competitiveness advantage.
Cargo export posted a year year increase of $35.2 billion, up 15 percent. Import topped $43 billion. Foreign direct investment attraction doubled last year number to $6.38 billion. Overseas remittances totaled $5.2 billion with 70 percent being invested in production and trading.
According to Mr. Hoan, although the city failed to meet two norms, the above results are big efforts by city Party Committee, authorities and people amid many difficulties including the central government's requirement to reduce buget revenue keeping ratio to 18 percent from 23 percent.
3. HCMC announces Smart City project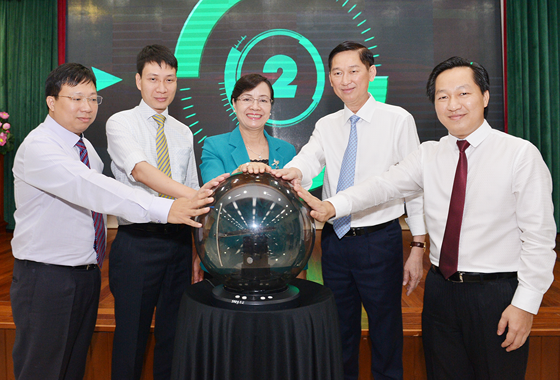 Chairwoman of HCMC People's Council Nguyen Thi Quyet Tam and other city and agency leaders at a ceremony announcing a software to publicize plans online (Photo: SGGP)
The Smart City project was officially announced in November with the target of high and sustainable economic development and the foundation of good exploitation of resources in visions till 2025.
Residents will be the center of the project. The city will create conditions for them to attend supervision and management. Smart City will create a transparent and convenient environment for businesses to operate and develop.
4. HCMC assists innovate startups, innovation
The city has implemented many policies to side with businesses such as a plan to improve startup and innovation ecosystem, regularly met and talked to businesses and supported them with practical policies.
Notably, the city has decided to build an innovative startup center to create environment for studying and creating innovative products for socio and economic development.
5. HCMC attracts over six million international visitors
HCMC has attempted to organize many tourist promotion activities domestically contributing in luring foreign visitors to the city. By mid December, the city welcomed the six millionth international visitor. It is forecast to receive 6.4 million this year while the country is expected to receive 13 million.
6. Efforts to restore street and pavement order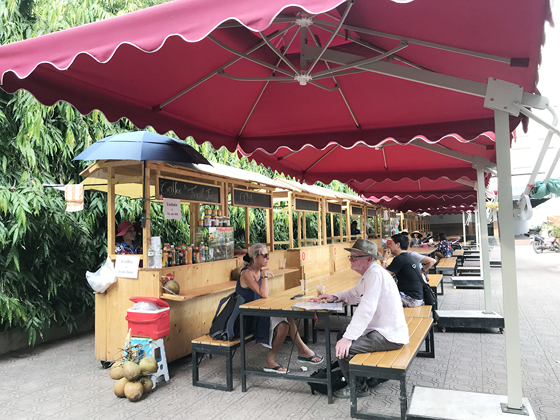 District 1, HCMC pilots vendor street in Bach Tung Diep park, one of solutions to restore street order (Photo: SGGP)
After a year of restoring street and pavement order, the city has seen some positive changes but implementation has been asynchronous with inconvincible handling of cases at the scene. Road re-encroachment has recurred.
Initial results obtained this year will be an important premise for the city to well perform urban order restoration in following years. HCMC has determined to carry out synchronous and sustainable solutions in a suitable roadmap.
7. Solving traffic jam in Tan Son Nhat Airport, city gateways
HCMC has focused on solving traffic jam spots especially in Tan Son Nhat Airport area, Cat Lai seaport and city entrance gateways.
Lot of decisions and policies have been made and issued to tacke the issue sufficiently, solving long lasting traffic jam in these areas.
8. Abolising houshold register book regulation in recruitment
The city has abolished the requirement that those appling for jobs at government agencies must have household register book in HCMC since November, finding that can not replace working ability.
The move aims to lure high quality human resource and ensure fairness for applicants especially new graduates who want to work in a dynamic and creative city.
9. Joining hands to overcome disaster consequences
HCMC raised a total funds of nealy VND40 billion (US$1.76 million) and organized 13 delegations to visit and assist people suffering damage from storms and flooding in northern, central and Central Highlands regions.
In addition, the city also mobilized VND30 billion to take care of people and soldiers in remote and island areas; VND159 billion to build charitable houses, buy means of livelihood and health insurance cards for poor households.
10.
Successfully
organizing HCMC-Gyeongju World Cultural Expo 2017
HCMC-Gyeongju World Cultural Expo 2017 taking place in 23 days is a special cultural exchange program between Vietnam, South Korea and other nations, introducing Vietnamese culture and people and HCMC as a young, dynamic, humane and hospitable city to South Koreans and international friends.
The success of the event contributes in deepening strategic cooperative partnership relations between Vietnam and South Korea on the occasion of the 25th founding anniversary of diplomatic relations between the two nations, boosting cooperation between HCMC and Gyeongsaingbuk-do province and other Korean localities to a new high.
On the occasion, HCMC People's Committee and Gyeongsangbuk-do province authorities signed a memorandum of understanding on cooperative friendly relationship establishment, taking the total number of provinces and cities which HCMC is twinned with to 48.