The awarding ceremony was held on the occasion of the 131st birthday anniversary of the late President who the prize is named after.

These outstanding workers have not only performed well in their work and had practical initiatives to benefit companies but also provided training for workers who will prove to be important contributors later.
More importantly, these winners this year pay attention to environment protection in their initiative.
At the ceremony, a representative of the Labor Union called for more initiatives to create environmentally-friendly products to replace single-use plastic items as well as encourage trade union of all levels to use new products benefiting environment contributing to the city's plan to become a smart city.
Speaking at the prize-giving ceremony, deputy Chief of the city's Labor Union Kieu Ngoc Vu said that 201 outstanding engineers and workers have captured the Ton Duc Thang Prize for 19 years.
Ten winners this year are workers and mechanicians who are directly working in companies with dedication and having initiatives benefitting their companies as well as contributing to the city's seven breakthrough programs.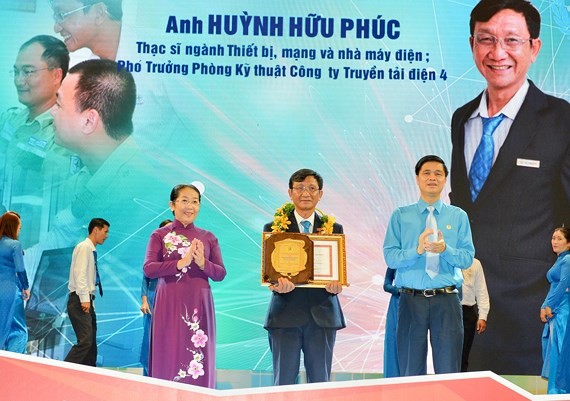 Deputy Secretary of HCMC Party Committee Vo Thi Dung gives prizes to winners at the ceremony ( Photo: SGGP)
Deputy Chairman of the city's Labor Union Ngo Duy Hieu, Deputy Secretary of HCMC Party Committee Vo Thi Dung, Deputy Standing Chairman of the Ho Chi Minh City People's Committee Le Thanh Liem and Deputy Editor-in Chief of Sai Gon Giai Phong Newspaper Ly Viet Trung attended the ceremony.
Born in the Mekong delta Province of An Giang, Ton Duc Thang joined the patriotic movement against the French colonialists at a young age. During his time working abroad, he participated in workers' movements in France, as well as the rising of the French Navy in the Black Sea in support of the October Revolution in Russia.


Returning to Vietnam in 1920, the late President founded the first workers' union in Vietnam and led the workers' movement in Sai Gon – now HCM City – with the Ba Son strike being the most prominent example of the movement's activities. He then joined the Vietnam Revolutionary Youth Union and was entrusted with several key positions. He was arrested by the French colonialists in 1929 and was sentenced to 20 years of hard labor at Con Dao Prison. He was among the founders of the first Party cell in prison.