Supermarkets are gradually outclassing traditional markets and street vendors as local consumers are scared of tense bargain and poor food hygiene.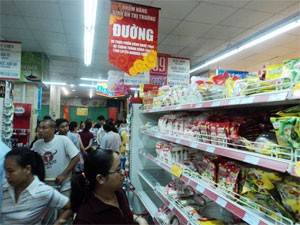 Shoppers browsed state-subsidized products at a HCMC-based supermarket (Photo: Minh Tri)
Many housewives say they are afraid of shopping at traditional markets and street vendors, where are always crowded and offer dirty foods.
Supermarkets, in contrast, offer products with higher quality and lower prices, they say. Some consumers even found supermarkets a comfortable place to relax after a long working day.
"I have a high pressure job, so browsing at supermarkets helps me unwind," says Nguyen Phuong Minh of District 5.
Mai Phuong, a regular customer at supermarket Co.op Mart favors the telephone order service. "I can shop from home just with a phone call. Products will be transferred directly to my house," Phuong says.
Another supermarket shopper Nguyen Minh Hung says supermarkets now offer credit card payment, which is very convenient for customers.
Le Thi Mai Trinh, an employee from a Ho Chi Minh City-based firm, says "I have switch to shopping at supermarkets since my family got poisoning of food we bought at a street market near home."
Trinh adds that supermarket provide hi-quality products with adequate prices and "especially customer service is much more professional than street markets."
She also favors state-subsidized goods, which are offered at supermarkets only.
Le Ngoc Minh, a regular shopper of a supermarket in District 3, said "the sales of state-subsidized goods at supermarkets are better than retail markets as they set up separated areas for those products with clear signs."
The price stabilization program has participating firms sell essential goods at prices 10 percent lower than prevailing market rates in return for incentives like interest-free loans to stock the listed goods.
Under their price stabilization programs this year, Hanoi and Ho Chi Minh City have so far spent VND400 billion (US$19 million), and VND380 billion ($18.1 million), respectively.
The money is mostly given as interest free loans to 28 participating businesses so they can stock and sell rice, meat, seafood, processed food, eggs, cooking oil, sugar and vegetables, at prices lower than in the market.
Bui Hanh Thu, deputy general director of supermarket chain Saigon Co.op said four out of eight state-subsidized products were sold well, including rice, sugar, cooking oil and processed food.