On Sep 14 afternoon, General Manager of Vietnam Export-Import Bank (Eximbank) Truong Van Phuoc, presented VND 1.17 billion to support "street knight" Nguyen Van Minh Tien to purchase a house of his own.
In particular, Eximbank managing Board supported VND 120 million as payment for the first phase to help Tien to buy the apartment, all staff members in Eximbank contributed day of salary each person for a total of $ 1 billion and Le Hung Dung, Chairman of the Board Eximbank, supported VND50 million.
Nguyễn Văn Minh Tiến (born in 1974) is an electronic worker in Tân Phú ward, Hồ Chí Minh city, Việt Nam who has caught hundreds of criminals and plunderers in Hồ Chí Minh city.
From 1997 to present, he has more than 300 times chased and caught criminals. Many times, he was rewarded by the government and was considered a typical person in the All People Protect National Security Movement. Many newspapers and Vietnamese people call him "Tiger Tiến", "Street Hero", "Lục Vân Tiên" (a legendary Vietnamese hero).
Many times, Tiến was riding his motorcycle, chasing criminals on the streets in Hồ Chí Minh city. Facing danger when chasing and fighting against criminals did not make him feel despondent. The Hồ Chí Minh city's police has issued a special hooter-light for his motorcycle so that he could chase criminals more easily.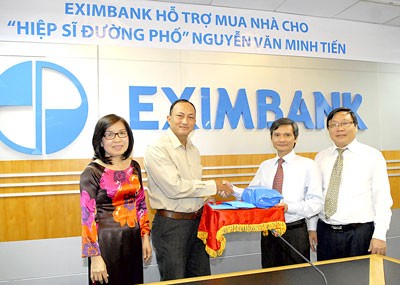 Eximbank representatives give money to knight Nguyen Van Minh Tien (2nd from the left).
Vietnam
prime minister Võ Văn Kiệt has called him a "Hero in the battle against criminals". However, until now, Tien and his family still has to rent an apartment for living.
Therefore, HCM City decided to help Tien to buy a social policy apartment in Dong Hung Thuan Ward, District 12, but the family was too poor, and he can not afford to pay.
Therefore, the staff of Eximbank joined hands to help him to purchase an apartment..
Touched by the hearts of persons oø Eximbank staff, Tien said: "All my property is 288 certificates of merit, and merit medals, insignia of the HCMC authorities and Vietnam government. Having a place to live in the dream is the dream of my life, thanks to the People's Committee of Ho Chi Minh City, the authorities of all levels and Eximbank , now my dream has come true ... ".
Tien said, after paying of the price of the apartment, he will extract VND150 million to support the street Knights Club to buy motorcycles to chase and prevent the criminals. He also hoped more people would involve and arrest robbers, struggle against crimes, protect the peace for the city.