The government's new decision ordering all state organizations to set up free parking lots and stop taking parking fees from visitors took effect on September 5, but most organizations have found it difficult to implement the regulation on time.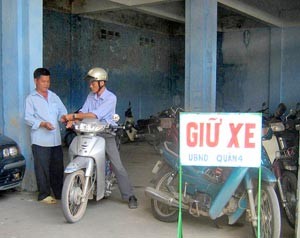 A visitor pays for the parking fee in a State organization parking lot
When asked about the new decision, an employee at the Tan Binh District People's Committee parking lot said that he was informed about the regulation but no concrete instruction had been given to him yet.
As a result, all visitors coming to such organizations are still charged a parking fee of VND2,000.

Most districts' officials have shown considerable concern about the government's new decision. Many of them said that the State's budget granted to each district does not include the salary for those taking care of the parking lot and visitors' vehicles.

Moreover, most of the buildings' security guards do not have extra time to guard the visitors' vehicles. Therefore, in most cases, the task is given to other people who take parking fees as their salary. The lack of land for building parking lots is also a big issue for the organizations. Many of them have to rent a lot far away from their buildings, creating more inconvenience to the employees as well as the visitors.

Therefore, visitors who come to the organization still have to pay a parking fee but, as most of the officials said, the situation will not continue for long.

The organizations are currently in search of the most effective solutions to their problems. Some organizations will have their parking lots for rent outside normal office hours (from 5pm to 6am) and will readjust their budgets to hire new employees to take care of the parking lots.