The Association gave prizes to winners in the Book Pedestrian Street in District 1 yesterday.

The organizer of the second photography contest themed "Tu hao bien cuong Viet Nam" (Proud of Vietnam's border) has received nearly 4,000 entries from 250 photographers in 50 cities and provinces in the country.
The contest is for aerial flycam photography enthusiasts especially nature lovers.
This year, submissions are photos of beautiful scenes of HCMC to coastal areas and border crossings in the North which took viewers' breath away.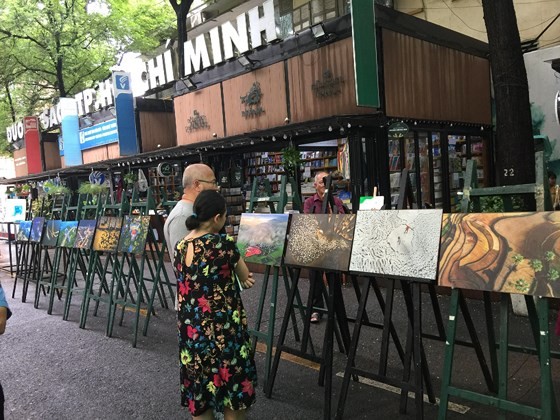 Viewers enjoying the photos in the Book Pedestrain Street (Photo: SGG)
After four months, the jury selected one first prize, one second prize, three third prizes, 10 encouragement prizes and one selected online.
The picture was taken at Gioc Waterfall on December 1, 2018 when Tuan and his friends arrived in the northern province of Cao Bang, Tuan said about his photo.